An EPA Partnership Program
Fix a Leak Week 2013
WaterSense and its partners celebrated the fifth annual Fix a Leak Week March 18 through 24, 2013, with some of the following educational events and leak-fixing efforts.
WaterSense Partner Fix a Leak Week Events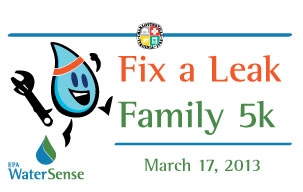 City of Charlottesville, Virginia
The city planned a Fix a Leak Family 5K race along a local nature trail, featuring local vendors and non-profit organizations with information on ways to save both water and energy.
AquaPro Solutions and Asheville, North Carolina
AquaPro Solutions, LLC worked with the City of Asheville Department of Sustainability to plan a week-long event and distribute free water conservation information, leak identification kits, showerheads, faucet aerators, and dual flush conversion kits to city residents. Local Green Plumbers also offered service discounts during Fix a Leak Week.
Metropolitan North Georgia Water Planning District
Utilities and local governments within the District planned the Water Drop Dash 5K Race and Water Festival featuring water conservation education and activities.
Central Arkansas Water
With the governor proclaiming Fix a Leak Week in Arkansas, Central Arkansas Water planned to distribute efficient plumbing fixtures, fix leaks in low-income homes, have seminars hosted by Lowe's, hold educational events at schools, and distribute toilet dye tablets at a Saint Patrick's day parade.
WaterSense Partners in Texas
Numerous WaterSense partners in Texas planned events for Fix a Leak Week. The City of Forth Worth partnered with The Home Depot to offer three different do-it-yourself indoor leak-fixing workshop locations, and Arlington Water Utilities planned "Fix a Leak" workshops at both The Home Depot and Lowe's. The City of Irving planned to offer free residential indoor water audits, and free leak-detecting dye tabs were available from the City of Laredo Utilities Department and the City of Mesquite Water Conservation Office.
Texas A&M AgriLife Research and Extension Center, Dallas, Texas
The Texas A&M AgriLife Research and Extension Center planned a grand opening event for the WaterSense House on March 23, 2013. The house showcases WaterSense labeled products and water-smart landscaping.
Colorado Springs Utilities, Colorado
Colorado Springs Utilities customers can exchange up to 1,000 old showerheads with WaterSense labeled models and check out a new interactive exhibit demonstrating how WaterSense labeled fixtures save water and perform compared to standard models.
Arizona Municipal Water Users Association (AMWUA)
For the third year in a row, AMWUA planned a four-mile "One for Water" race March 9, 2013, featuring a special emphasis on outdoor leaks in partnership with fellow WaterSense partner Ewing Irrigation.
City of Redding, California, Water Utility
The City of Redding scheduled a free, drop–in workshop for customers to learn how to change a toilet flapper, read a water meter/bill, and identify leaks inside and out. The first 250 participants could receive a free kit on how to "Be Water Smart!"
San Francisco Public Utilities Commission
In addition to encouraging residents and businesses to fix leaks and use WaterSense labeled products through a public service announcement, the Commission planned an event at Lowe's with information on how to identify leaks and demonstration on how to repair them.
Regional Water Providers Consortium of Portland, Oregon
Through the Consortium's "leak detectives" contest on social media, participants could submit a photo or 30–second video of finding and fixing leaks around their home or business to win a Lowe's gift card.
Other organizations that planned Fix a Leak Week events or other outreach efforts include:
Green Plumbers Training with Kennebec Valley Community College in Fairfield, Maine
West Virginia Public Service Commission
City of Woodstock, Georgia
Athens-Clarke County, Georgia, Public Utilities Department
Hansgrohe
Village of Buffalo Grove, Illinois
Green Bay, Wisconsin, Metropolitan Sewerage District
WasteWater Education of Benzonia, Michigan
Mustang Contracting Services, Inc., of Dallas, Texas
City of Garland, Texas, Water Utilities
Cinco Municipal Utility District No. 8 in Texas
City of Gillette, Wyoming
Denver Water
San Dieguito Water District and Olivenhain Municipal Water District in California
City of Sandy, Oregon
City of Winnipeg Water and Waste Department in Manitoba, Canada
Related Links