An EPA Partnership Program
Landscape Irrigation Sprinklers
Landscape Irrigation Sprinklers
Outdoor water use accounts for about 30 percent of average household water use nationwide. Current estimates are that residential outdoor water use accounts for nearly 9 billion gallons of water each day, mainly for landscape irrigation. This number rises dramatically in hotter and drier parts of the country.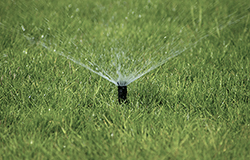 To help increase outdoor water efficiency, EPA issued a Notice of Intent (NOI) (11 pg, 321K, About PDF) to develop a specification for landscape irrigation sprinklers in July 2014. Water-efficient irrigation sprinklers deliver water more evenly to the landscape than traditional sprinklers and also regulate pressure to help ensure a constant flow rate. Developing a specification that allows sprinklers to earn the WaterSense label will help provide consumers and irrigation professionals with additional water-efficient irrigation equipment options. The NOI outlined the performance criteria WaterSense proposed for both high-efficiency nozzles and pressure-regulating sprinkler bodies, and identified issues that still need to be resolved.
WaterSense solicited public comment on the NOI, analyzed the public comments, conducted additional research, determined a path forward for this product category, and briefed stakeholders on the developments.
As of November 2015, WaterSense moved forward with developing the WaterSense Draft Specification for Spray Sprinkler Bodies intended for spray sprinkler bodies with integrated pressure regulation, but put on hold developing a specification for high-efficiency nozzles. If you have questions on these decisions or on information included in the documents listed above, please contact us at watersense-products@erg.com.
Interested in receiving e-mail updates from WaterSense? Sign up for the WaterSense Current.
Technical Information
Are you a manufacturer or retailer or distributor interested in partnering with WaterSense or finding out more about the development of water-efficient landscape irrigation sprinklers? Please review the landscape irrigation sprinklers NOI (11 pg, 321K, About PDF) or draft specification for spray sprinkler bodies for more information, or email us with questions or comments.