An EPA Partnership Program
Pre-Rinse Spray Valves
WaterSense Labeled Pre–Rinse Spray Valves
Pre-rinse spray valves—often used in commercial and institutional kitchens—are designed to remove food waste from dishes prior to dishwashing. By switching to a WaterSense labeled pre–rinse spray valve, a commercial or institutional kitchen can save more than $115 annually in energy and water costs.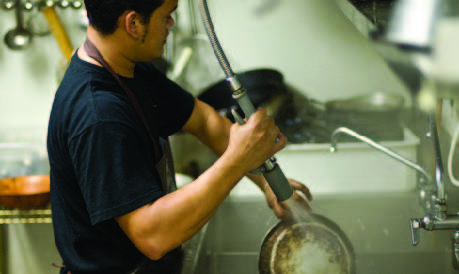 About 970,000 food service establishments in the United States use approximately 51 billion gallons of water each year to rinse dishes with pre-rinse spray valves. In fact, pre-rinse spray valves can account for nearly one-third of the water used in the typical commercial kitchen. The federal standard for commercial pre-rinse spray valves is 1.6 gallons per minute (gpm), but manufacturers have now developed models that use significantly less water. Replacing standard pre-rinse spray valves with WaterSense labeled models offers a significant opportunity for water and cost savings.
The WaterSense Label
EPA's specification sets the maximum flow rate for WaterSense labeled pre–rinse spray valves at 1.28 gpm, or 20 percent less water than the federal standard, and includes spray force criteria and lifecycle testing to ensure performance in commercial kitchens. All WaterSense labeled models are required to include spray force on product packaging or in literature to help purchasers select products most suitable for their applications. WaterSense labeled pre–rinse spray valves are independently certified to ensure efficient cleaning while using less water.
WaterSense Savings
Replacing one pre-rinse spray valve with a WaterSense labeled model can save a typical commercial kitchen more than 7,000 gallons of water per year. That's equivalent to the amount of water needed to wash nearly 5,000 racks of dishes. Because kitchens use hot water to rinse dishes, installing a WaterSense labeled pre–rinse spray valve can reduce a commercial kitchen's annual natural gas use by more than 6,400 cubic feet per year. That's enough energy to run its convection oven 12 hours a day for three weeks.
A commercial kitchen that replaces one pre–rinse spray valve with a WaterSense labeled model could save as much as $115 to $240 per year, as it could reduce water costs by $65 per year and energy costs by $50 per year (natural gas) or $175 per year (electricity). The facility could see payback on the investment in as little as four to eight months.
Start Saving Today
Restaurant equipment purchasers can now look for the WaterSense label. If all commercial food service establishments in the U.S. installed and used a WaterSense labeled pre-rinse spray valve, we could save more than $225 million in water and energy costs across the country annually.
A WaterSense Labeled Pre-Rinse Spray Valve fact sheet is also available in PDF (1 pg, 287K).
Technical Information
Are you a manufacturer or retailer or distributor interested in learning more? Please visit the Pre-Rinse Spray Valve Specification page for more detailed information.