An EPA Partnership Program
Fix a Leak Week 2011
WaterSense Partners Help Spread the Word About Fix a Leak Week
Thanks to the outreach efforts of WaterSense partners across the country, more than 9.3 million people learned about Fix a Leak Week in 2011. Armed with information about finding and fixing households leaks, consumers were able to "check, twist, and replace" their way to water savings over the course of the week.
Learn more about what you can do to reduce leaks in your home all year long.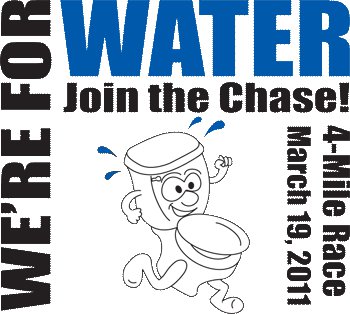 Arizona Runners Chase Down Leaks
The Arizona Municipal Water Users Association (AMWUA) took advantage of Arizona's mild spring weather and avid running community to craft an attention-grabbing event to host the national Fix a Leak Week kickoff for 2011.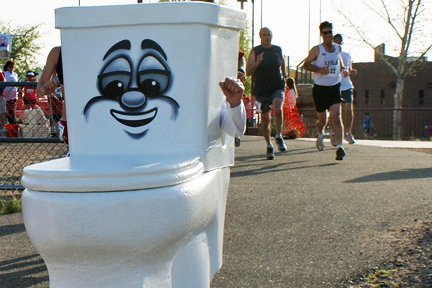 Their hook? A professionally-timed race, lead by larger-than-life toilet mascot Leaky Loo McFlapper, to engage the community in a challenge to chase down and fix leaks.
AMWUA also brought local media outlets on a tour of one of the most water-efficient homes in Phoenix, Arizona to reveal how simple projects can go a long way toward saving water and money. Homeowner Sean Pierce had transformed his home one repair at a time, fixing leaks and replacing fixtures when necessary. In doing so, he has saved about 40,000 gallons of water and about $150 on utility bills per year.
Partner Events from Around the Country
WaterSense partners held events in every corner of the country to promote Fix a Leak Week in their own communities. Here are a few highlights:
Flo, WaterSense's gallon-sized We're for Water campaign mascot, helped the Albuquerque-Bernalillo County Water Utility Authority in New Mexico promote Fix a Leak Week to residents.
The Town of Cary, North Carolina, gave residents the chance to win WaterSense labeled toilets if they picked up and used free toilet leak detection kits. The town also sponsored workshops at local Lowe's and Home Depot stores.
Cascade Water Alliance in Bellevue, Washington, mailed leak detection kits to its consumers.
Flo made an appearance at the Cobb County Water System "Go Green and Save Green Workshop" in Marietta, Georgia.
The Washington, D.C. Water and Sewer Authority hosted two consumer education events and
distributed We're for Water "check, twist, replace" resource cards and faucet aerators.
Austin Water (Texas) held a Fix a Leak Week community event at the local Home Depot with demonstrations and vouchers for free WaterSense labeled toilets.
More than eight WaterSense partners issued Fix a Leak Week proclamations and earned media coverage for their efforts.
Related Links