Waste Programs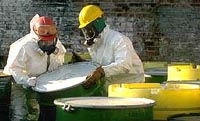 National Links
Waste Disposal Permits
For information regarding waste disposal permits, please call
(415) 495-8895 during business hours. You will be assisted by EPA contractors.

Recycle City
EPA's waste programs promote handling hazardous wastes safely, cleaning up contaminated land, and reducing trash.
Under the authority of the Resource Conservation and Recovery Act (RCRA) and in cooperation with our state and tribal partners, our Waste Management Division manages a hazardous waste program, an underground storage tank program, and a solid waste program that includes development of waste reduction strategies such as recycling.
Features
Programs & Resources