You are here: EPA Home
Tribal Solid Waste
Solid Waste Management on Tribal Lands
Related Information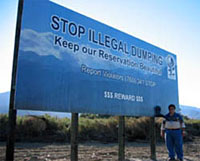 EPA's Pacific Southwest Region (Region 9) Tribal Solid Waste Program works with tribal environmental agencies in California, Arizona and Nevada to ensure the safe and effective management of solid waste under the Resource Conservation and Recovery Act (RCRA). The Solid Waste Program works directly with tribal governments to address solid waste issues, such as cleanup of open dumps, development of integrated solid waste management programs, including composting and recycling, curbside collection, and transfer station development. We assist tribes in understanding RCRA solid waste and landfill regulations. We provide technical assistance, training and funding, and facilitate peer networking and community education. We also assist tribes with site-specific flexibility determinations for municipal solid waste landfills.
EPA's 1984 Indian Policy lays the groundwork for EPA involvement in Indian Country. EPA commits to close involvement, in a government-to-government relationship, with tribal governments in making decisions and managing environmental programs affecting reservation lands.
Programs and Resources
Developing Solid Waste Codes and Ordinances
General tips and frequently asked questions for developing and updating tribal solid waste codes, plans and ordinances.
Developing Solid Waste Management Plans General tips and frequently asked questions for developing a tribal solid waste management plan.
Green Building
General information and resources for the green building which is the practice of creating healthier, more resource-efficient models of construction, renovation, operation, maintenance, and demolition.
Greening Tribal Casinos
General tips for greening casinos and related facilities including hotels, golf courses, spas and parking lots.
Open Dump Cleanup
Includes resources on illegal dumping assessment, prevention and cleanup.