An EPA Partnership Program
Water-Smart Landscape Photos
WaterSense Landscape Photo Challenges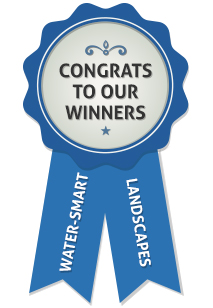 2015 #WaterSavingYard Photo Challenge
Through social media we received entries that showcase how beautiful a water-saving yard can be through the #WaterSavingYard Photo Challenge. Thank you to all who participated! Winners were selected by WaterSense's Facebook Fans
who voted for their fan favorite and winners with the most likes were selected from Instagram. Congratulations to our fan favorites!
WaterSense created the challenge to encourage consumers to save water outdoors, which is especially important over the hot summer months and during times of drought. One way to save water is to design a landscape that incorporates natural design features and uses plants that need less water. These photo entries are representative of what can be accomplished to promote and create a beautiful water-saving yard.
2013 Water-Efficient Landscape Photo Contest
After receiving hundreds of Water-Smart Landscape Photo Contest entries, WaterSense's Facebook Fans
voted for their favorite landscape. Congratulations to our four Water-Smart Landscape winners!
These finalists represent a selection of beautiful, efficient, and diverse landscapes from across North America that are benefitting from water–smart design features, such as incorporating:
Drought tolerant, low water–using, or native plants
Mulch around shrubs and garden plants
Limited or functional use of turfgrass
Water–efficient irrigation design and components (e.g., micro or drip irrigation, weather–based irrigation controllers, etc.)
Do You Have a Water-Smart Landscape?
Although the photo challenges are over, WaterSense is always looking to showcase water-saving beauties. If your landscape is water-smart or you've designed one that is, contact the WaterSense Helpline to learn how it can be included in the Water–Smart Landscape Photo Gallery.