An EPA Partnership Program

Shower Better
Showering is an important part of the day, helping us wake up in the morning or unwind in the evening. Showering is also one of the leading ways Americans use water in the home, accounting for nearly 17 percent of indoor water use. Every time you take a shower, you also use energy to heat and deliver the water to your showerhead. But you can shower better by replacing your old showerhead with a WaterSense labeled model and save water, energy, and money.
Independently certified for efficiency and performance, WaterSense labeled showerheads save water and energy while still providing a satisfying spray. You can find WaterSense labeled showerheads in all kinds of styles and price points, and some utilities offer rebates to help offset the cost. By replacing just one showerhead with a WaterSense labeled model, EPA estimates the average family can save 2,900 gallons of water, the amount of electricity needed to power its home for 13 days, and more than $70 in energy and water costs every year.
Changes we make at home will add up quickly across the country. If every home in the United States replaced existing showerheads with WaterSense labeled models, we could save more than 260 billion gallons of water and nearly $5.1 billion in water and energy costs across the country annually!
Case Study - Cobb County Showers KSU with Campus-Wide Savings (2 pg, 310K, About PDF): Learn how Cobb County Water System and Kennesaw State University (KSU) made a big splash for Shower Better Month in October 2014. KSU saved more than 650,000 gallons of water, reduced dormitory water use by about 28 percent, and saved $6,500 in water bills in six months by switching out showerheads to WaterSense labeled showerheads.
The Drops–to–Watts Connection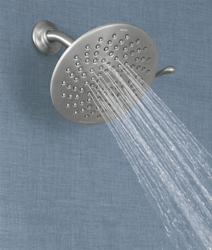 The water-energy nexus doesn't stop with the shower. It takes energy to heat and deliver water to the bathtub, faucet, and other fixtures in your home that use hot water. Interested in knowing more about how saving water also saves energy? Learn more about the drops to watts connection.
Kids can also play a role in saving both energy and water. Distribute this learning resource (PDF) (2 pg, 545K, About PDF) at events and schools so they can find out how water and energy go hand in hand.