You are here: EPA Home
Hualapai Earthship
Hualapai Uses Discarded Waste to Create "Earthship," Environmentally-Friendly Office Space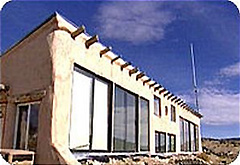 Hualapai Earthship, designed by Architect Michael Reynolds
Earthships are buildings made from recycled and recovered material. They are so well integrated into the landscape that they remain naturally warm in the winter and cool in the summer.
The Hualapai Tribe of Arizona recently constructed an Earthship using more than 500 tires and 500 pounds of aluminum that would have otherwise been dumped into a landfill. The completed Earthship is 1,000 square feet and currently houses the Hualapai Tribe's environmental offices.
The Tribe used all of its recycled tires to construct the Earthship and had to bring tires in from neighboring communities to complete construction.
Features of the Hualapai Earthship
Constructed with "green" and recycled building products, such as windows obtained from an old building, recycled tires and environmentally-friendly paint.
Uses solar power through photovoltaic panels mounted on the roof
Roof designed to catch rainwater
The materials used for the Earthship – natural clay materials and tires for the walls, and stone for the floors – help keep the building cool in the summer and warm in the winter. No other heating or cooling systems are needed.
South-facing windows keep the building warm during winter
Reduced long term energy costs
Uses recycled, or "gray-water" – water that has already been used in a building, such as a kitchen sink – to irrigate the surrounding landscape.
Solar power is ideal for remote areas that have limited access to the utility infrastructure common to more urban areas. At the time the Earthship was built, only five percent of the Hualapai's one million acres of land had utility services.
Since Earthships can function without access to utility services – "off the grid" – and all construction materials are recycled or salvaged, they often cost considerably less than a conventional house. When the Hualapai Earthship was completed, more than 100 tribal members signed a petition asking that Earthships be constructed as housing for them.
This project was made possible through EPA's Jobs Through Recycling grant. In addition to funding the Earthship, the grant helped establish the Hualapai Building Group, an organization that provides jobs and skills training for Tribal members.
The Hualapai Tribe is planning to build two additional Earthship-style buildings with Tribal funds. The Tribe recently received funding for a solar project from the U.S. Department of Agriculture and it plans to construct an Earthship to house all of its solar equipment. In addition, a new dog kennel in Peach Springs, Ariz. is slated for Earthship construction.
Architect Michael Reynolds designed the Hualapai Earthship.
Contact Information
EPA Contact
Michelle Baker (Baker.Michelle@epa.gov)
Office of Pollution Prevention and Solid Waste
(415) 972-3206
Hualapai Tribe Contact
Jack Ehrhardt
Director, Hualapai Planning Office
Hualapai Tribe
P.O. Box 179
Peach Springs, AZ 86434
(928) 769-2216 x104