You are here: EPA Home
Enforcement Actions Protect Wetlands
Wetlands of the Pacific Southwest
Enforcement Actions Protect Wetlands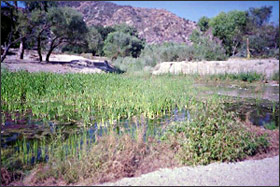 The Clean Water Act's Section 404 has protected wetlands nationwide for more than 30 years. In the Pacific Southwest, a variety of wetland types provide essential food, habitat, and migration corridors for hundreds of species of wildlife, fish, and plants, as well as filtering pollutants and preventing floods by storing and transporting runoff and snowmelt.
The law prohibits discharge of dredged or fill material into waters and adjacent wetlands without a permit, issued by the U.S. Army Corps of Engineers, that includes conditions to minimize environmental impacts. EPA reviews the permits and takes enforcement action against those who have failed to get a permit.
EPA's enforcement goals are to restore illegally filled waters and wetlands, and deter future violations. Over the past year, EPA has taken enforcement actions to protect waters and wetlands in all four states of the Pacific Southwest – Arizona, California, Hawaii, and Nevada. Here are examples from each of these states.