You are here: EPA Home
No Discharge Zones
No Discharge Zones in Region 9 - California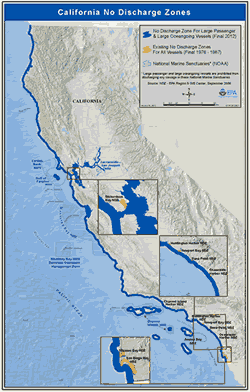 "No Discharge Zones" (NDZs) are designated bodies of water where the discharge of treated and untreated sewage from vessels is prohibited. Federal Law prohibits the discharge of untreated sewage from vessels within all navigable waters of the U.S., which include territorial seas within three nautical miles of shore. Below is an overview map of NDZs in California.
EPA Regional Administrator Jared Blumenfeld signed the Final Rule establishing the California No Discharge Zone on February 9, 2012. The final rule prohibits the discharge of all sewage (treated or not) from all large passenger vessels of 300 gross tons or greater, and large oceangoing vessels of 300 gross tons or greater with sewage holding capacity into California marine waters.
The Final Rule was published in the Federal Register on February 27, 2012 and is effective March 28, 2012.
---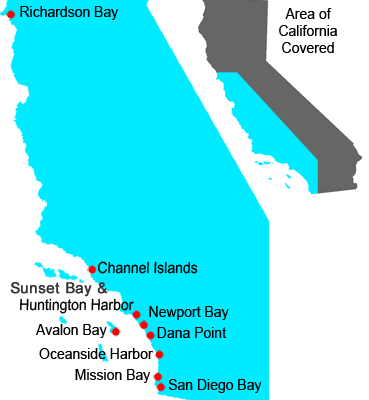 Individual No Discharge Zones
There are ten existing small No Discharge Zones in California that apply to treated and untreated sewage from all vessels.
More Detailed Maps of the Individual NDZs:
Source: Nautical Charts from nauticalcharts.noaa.gov. No Discharge Zones created by EPA Region 9 GIS Center
More Information About NDZs
Region 9 Information
Paul Amato (Amato.Paul@epa.gov)
US Environmental Protection Agency, Region 9
75 Hawthorne Street
San Francisco, CA 94105
(415) 972-3847