You are here: EPA Home
Today's Air Quality from AIRNow
Air Quality Analysis

Today's Air Quality from AIRNow
To find information about air quality in your area, begin by selecting a state below or in the map.
All links go to AirNow site. Use the State search box at AIRNow to find local information.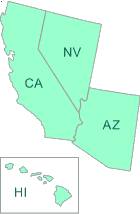 The links contain the current and forecasted Air Quality Index (AQI) as well other air quality maps and information.