Air Plan Actions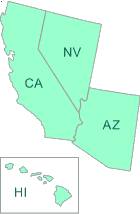 Air Plan Actions include federal action on state implementation plans (SIPs) to make them federally enforceable. SIPs may contain rules or regulations that control pollution from stationary, area, or mobile sources.
All area NAAQS designations can be found in the Code of Federal Regulations. 

Areas of the country where air pollution levels persistently exceed the national ambient air quality standards can be found at: The Green Book Nonattainment Areas for Criteria Pollutants.
Recent Air Plan Actions in Region 9 are provided below.