EnviroAtlas Web Services
What are web services, and how can I use EnviroAtlas web services?
Mapping professionals widely use web services to share geospatial data and analysis tasks. A web service allows computers to share software and data over the internet. EnviroAtlas publishes representations of spatial data that a server makes available to other computers or applications. For EnviroAtlas users, web services are important for two reasons: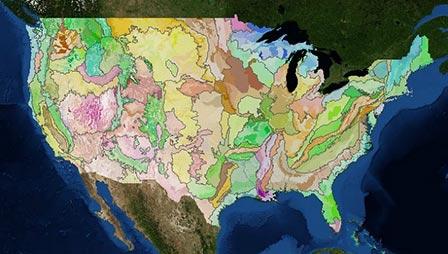 Ecoregion web service displayed over an imagery basemap.
Users can display EnviroAtlas maps and data in other online or desktop applications without having to download the data.
Using web services, EnviroAtlas can display relevant maps from other data sources in its Interactive Map.
EnviroAtlas implements Esri's ArcGIS Server technology to create, publish, and share web services for data developed for EnviroAtlas. EnviroAtlas web services are used to display data in the EnviroAtlas​ Interactive Map table of contents and are also available for public use in desktop mapping applications or web-based mapping applications. In some cases, EnviroAtlas uses web services created by other organizations.
Some examples of web services that are displayed in EnviroAtlas:
EPA Ecoregions data
Protected areas (PAD-US) data from the USGS National Gap Program
National Hydrography Dataset
Access web services published by EnviroAtlas
EnviroAtlas web services provide access to data layers through ESRI's ArcGIS Server and Open Geospatial Consortium (OGC) service formats. The services are published in the EPA's GeoPlatform Hosting Environment and include metadata that is discoverable through the EPA's Environmental Data Gateway (EDG) and Data.gov. Each EnviroAtlas web service can be imported into applications (such as ArcGIS Desktop, ArcGIS.com, Bing Maps, or OpenLayers) or into the EPA's GeoPlatform Online mapping interface.
Documentation for each web service is located under the blue "info" icon next to the map name in the Interactive Map. OGC web map services (WMS) and web feature services (WFS) are also available for use; the links to these services are located on the ArcGIS Server service page.