Water Quality Surveillance and Response System Exercise Development Toolbox
On this page:
---
Overview
The SRS Exercise Development Toolbox helps utilities and response partners design, develop, conduct, and evaluate SRS-related discussions and operations-based exercises. These exercises help to develop, teach, refine, and improve SRS procedures.
The toolbox allows utilities to:
Learn about SRS training programs
Develop realistic exercise scenarios
Design SRS discussion-based and operations-based exercises
Create exercise documents
The following screenshots are taken from the Exercise Development Toolbox. Click on a screenshot for a larger version.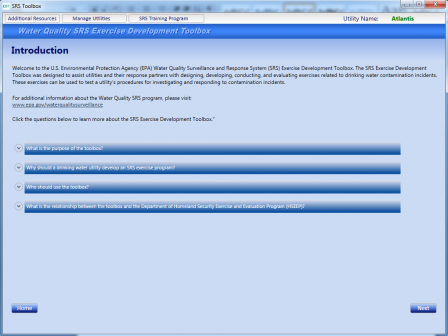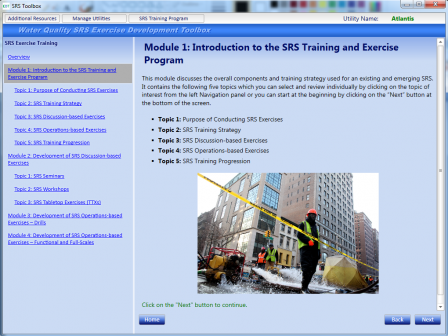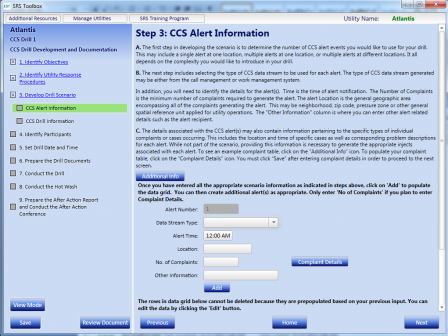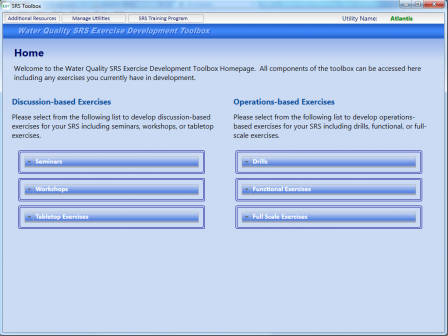 ---
System Requirements
To run EPA's SRS Exercise Development Toolbox, the following minimum system hardware and software requirements must be met:
Operating System: Windows 7 and 8
Microsoft Office: 2007 and above
Other software: Adobe Acrobat Reader
Disk space: 70 MB
---
Download and Installation Instructions
Download the Exercise Development Tool
After downloading EPA's SRS Exercise Development Toolbox:
Open the setup file (SRSToolbox.exe) to launch the installer. If there are any security settings on the machine, click "Run" when prompted.
Click "Next" on the following two screens to begin installation.
A popup may ask you to install two files. Click "Install"
Click "Next" on the following two screens. Then click "Install" and "Finish" when the installation is complete. Click "Finish" on the main installation screen. The Toolbox is now installed.