Southern Resident Killer Whales
Summary

Neutral
After a steep decline between 1994 and 2001, the population of Southern Resident Killer Whales appears to have stabilized. 
Killer whales (or orcas, Orcinus orca) are top predators and cultural icons of the Salish Sea. They're featured prominently in the stories and art of the Coast Salish people, and their presence is important for local tourism. During the spring, summer and fall months, killer whales can be seen regularly in the Salish Sea ecosystem. Orcas have been listed as endangered species in both the U.S. and Canada, and their population is closely tied to the overall health of the ecosystem.
What's happening?
From 1974 to 2015, the resident orca population showed periods of both growth and decline. When we collected our first population census in 1974, 70 whales were sighted. Their population increased by 40% to a high of 98 in 1995, then dropped almost 20% to 80 individuals between 1995 and 2001, prompting governments to list them as endangered species. As of today, the population has just 82 whales, including 4 calves born a year ago, and 2 who were born more recently and who will be officially counted at the end of this year.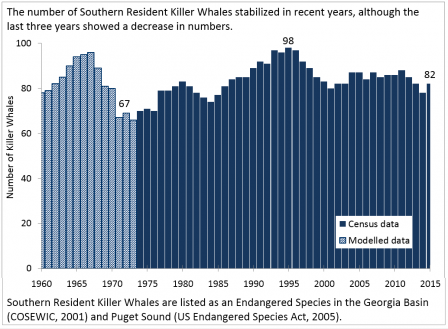 Click image for larger version.
Why it's important?
Orcas are culturally, spiritually, and economically important to the Salish Sea. Their population is affected by many environmental factors - such as toxic chemical pollution, bacterial pollution, and sound and physical interference from boats. They rely on healthy populations of salmon, so reductions in killer whale abundance may also provide warnings of reduced populations of salmon.
Why is it happening?
Recent declines in orca population may be linked to threats such as toxic pollution and noise and disturbance from boat traffic. Orcas also rely on healthy populations of salmon - particularly Chinook - which are declining. These factors are all interconnected in a way that suggests an even greater impact on the orca population than can be predicted by studying any one factor by itself. Changing demographics within the small population can further exacerbate these factors and have pronounced influence over social dynamics such as mating, group foraging and social care of calves.
What are we doing about it?
Many agencies are working to address threats to the Southern Resident Orcas by focusing on projects that address reductions in food sources like salmon, pollution, disturbance from boat traffic, and oil spills - all of which can impact the orca populations.
Five things you can do to help!
Orcas are sensitive to noise and disturbance from boats. Instead of approaching them in your own vessel, spend a day watching them from a responsibly-managed whale watching vessel. Or watch for them from land with help from the Whale Trail.
Engage in citizen science by alerting researchers at the Orca Network or the Salish Sea Hydrophone Network when you spot orcas so scientists can track their travel.
Get involved in efforts to protect and restore salmon habitat in your community. Chinook salmon are especially important to orca populations in the Salish Sea.
Choose to eat sustainably-harvested salmon and other seafood to help protect wild fish populations.
Do your part to dispose of unused medicine and chemicals properly. Never dump into household toilets and sinks or outside where they can get into ditches or storm drains. See if your community has a household hazardous waste collection facility that will take your old or unused chemicals.
Related Information
Scientific References
Alava, J.J., P.S. Ross, F.A.P.C. Gobas. In press, August 20, 2015. Food web bioaccumulation model for resident killer whales from the northeastern Pacific Ocean as a tool for the derivation of PBDE-sediment quality guidelines. Archives of Environmental Contamination and Toxicology. 14 pages.
Alonso, M.B., A. Azevedo, J.P.M. Torres, P.R. Dorneles, E. Eljarrat, D. Barcelo, J. Lailson-Brito Jr., and O. Malm. 2015. Anthropogenic (PBDE) and naturally-produced (MeO-PBDE) brominated compounds in cetaceans — A review. Science of the Total Environment 481: 619-634.
Barrett-Lennard, L.G., J.K.B. Ford, K.A. Heise. 1996. The mixed blessing of echolocation: differences in sonar use by fish eating and mammal eating killer whales. Animal Behaviour. 1996(51): 553-565.
Bigg, M.A., I.B. MacAskie and G.M. Ellis. 1976. Abundance and movements of killer whales off eastern and southern Vancouver Island with comments on management. Arctic Biological Station. Ste. Anne de Bellevue, Quebec.
Bigg, M.A. 1982. An assessment of Killer Whale (Orcinus orca) stocks off Vancouver Island, British Columbia. Report of the International Whaling Commission. 32: 655-666.
Bigg, M.A.; Ellis, G.M.; Ford, J.K.B.; Balcomb, K.C. 1987. Killer whales: a study of their identification, genealogy and natural history in British Columbia and Washington State. Nanaimo, B.C.: Phantom Press & Publishers Inc., 1987. ISBN 0920883001.
Bigg, M. A., P. F. Olesiuk, G. M. Ellis, J. K. B. Ford, and K. C. Balcomb. 1990. Social organizations and genealogy of resident killer whales (Orcinus orca) in the coastal waters of British Columbia and Washington State. Report of the International Whaling Commission, Special Issue 12:383- 405.