Natural Gas STAR Partner Update Newsletter
The Partner Update newsletter provides information about the Natural Gas STAR Program, cutting edge emissions reduction practices and technologies, partner accomplishments, workshops/events and emerging regulations and other sector related news.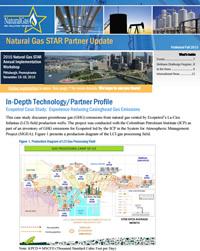 Fall 2015 Partner UpdateThe Fall 2015 Partner Update provides details about the 2015 Annual Implementation Workshop which was held November 16-18, 2015 in Pittsburgh, PA; showcases International Partner Ecopetrol's experience reducing casinghead gas emissions; and highlights the Methane Challenge Program that will provide a mechanism for oil and gas companies to make and track ambitious commitments to reduce methane emissions. The issue also includes other domestic news updates, including details about the release of 2014 Greenhouse Gas Reporting Program data for Petroleum and Natural Gas Systems.