Global Mitigation of Non-CO2 Greenhouse Gases: Landfills
Key Points
Global abatement potential from landfills is 589 million metric tons of carbon dioxide equivalent (MtCO

2

e), roughly 61% of projected baseline emissions in 2030.
Abatement measures with costs below $20/tCO2e can achieve a 30% reduction in baseline emissions.
Abatement measures include: 1) conversion of landfill gas to energy, and 2) waste diversion projects.
Sector Description
Landfills produce methane in combination with other landfill gases (LFGs) through the natural process of bacterial decomposition of organic waste under anaerobic conditions. LFG is generated over a period of several decades with gas flows usually beginning one to two years after the waste is put in place. The amount of methane generated by landfills per country is determined by a number of factors that include population size, the quantity of waste disposed of per capita, composition of the waste disposed of, and the waste management practices applied at the landfill.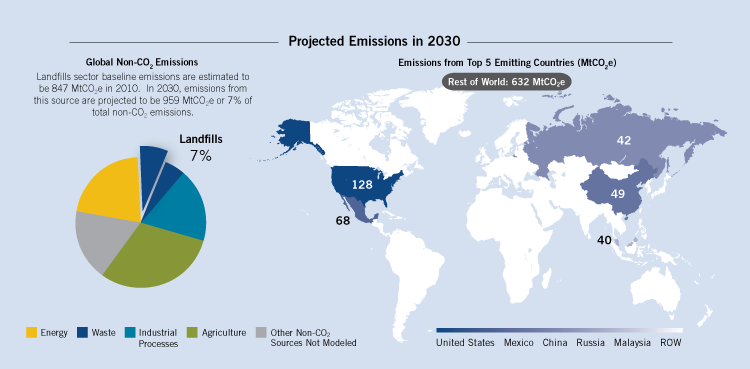 View or download the full-size image here.(125 K, PNG)
Emissions Reduction Potential
Assuming full implementation of current technology, emissions in the landfill sector could be reduced by up to 589 MtCO2e in 2030. This accounts for 13% of the 4,615 MtCO2e in global reduction potential in 2030.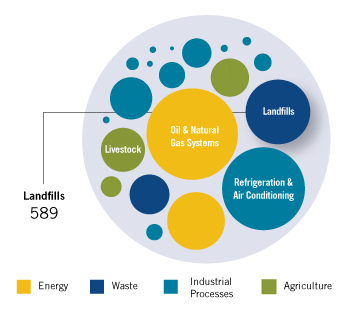 View or download the full-size image here.(110 K, PNG)
Abatement Potential
Global abatement potential in the solid waste landfill sector is estimated to be approximately 589 MtCO2e of total annual emissions in 2030, or 61% of the baseline emissions. The marginal abatement cost curve results suggest that there are significant opportunities for methane (CH4) reductions in the landfill sector at costs below $20 per tCO2e emissions reduced. Furthermore, approximately 70 to 80 MtCO2e of reductions are cost-effective at current energy prices.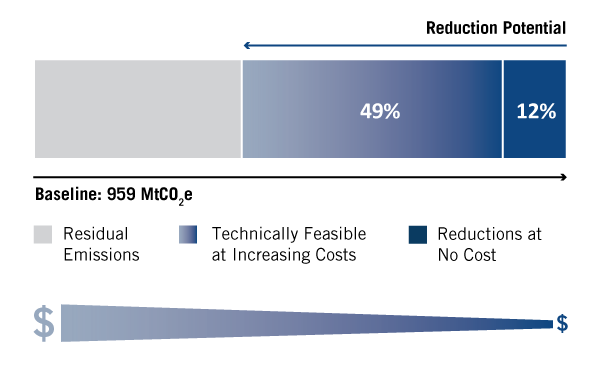 It would be cost-effective to reduce emissions by 12%, compared to the baseline, in 2030. An additional 49% reduction is available using technologies with increasingly higher costs.

View or download the full-size image here.(37 K, PNG)
Abatement Measures
Several abatement measures are available to control landfill methane emissions, and they are commonly grouped into three major categories: 1) collection and flaring, 2) LFG utilization systems (LFG capture for energy use), and 3) enhanced waste diversion practices (e.g., recycling and reuse programs). Although flaring is currently the most common abatement measure, LFG utilization options may be more cost-effective. Under favorable market conditions, recycling and reuse or composting alternatives may provide additional means for reducing emissions from landfills.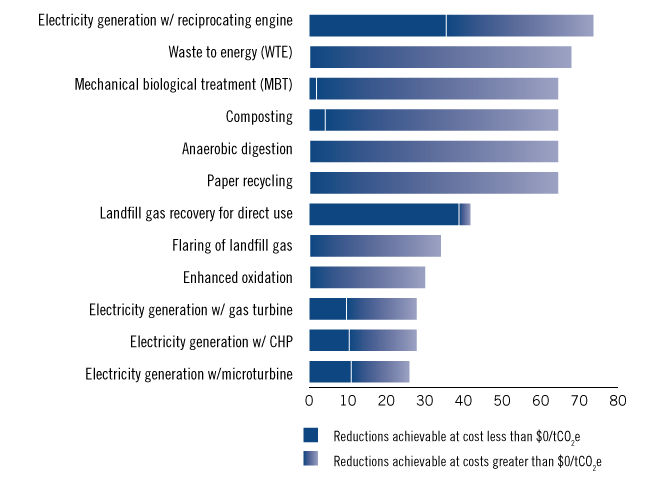 Emissions reductions by technology in 2030 at $0/tCO2e and at higher prices.

View or download the full-size image here.(52 K, PNG)