Pacific Southwest, Region 9
Serving: Arizona, California, Hawaii, Nevada, Pacific Islands, Tribal Nations
You are here: EPA Home
Compliance and Enforcement
Compliance and Enforcement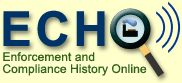 National Resources
Other Regional Enforcement Resources

The Pacific Southwest region encompasses diverse landscapes and cultures and includes some of the nation's fastest-growing metropolitan areas as well as the world's most diverse agricultural economy. Its industries include numerous oil refineries, military bases and mining operations. EPA works with local, state, and tribal governments and other federal agencies to achieve compliance with our nation's environmental laws through enforcement actions and compliance assistance efforts. To combat environmental crime, several environmental crimes task forces for the Pacific Southwest work out of the Criminal Investigation Division.
On February 11, 2013, EPA's Pacific Southwest Region created a new, multi-media Enforcement Division. The establishment of the regional Enforcement Division was the culmination of two years of extensive internal evaluation and organizational restructuring; the new organization consolidates the region's civil enforcement responsibilities under the federal air, water, waste, pesticides, and toxics statutes. The Enforcement Division's top priorities are to achieve high rates of environmental compliance, and to target administrative and judicial cases strategically through collaboration with states, tribes, and local governments, as well as with the U.S. Department of Justice.
Enforcement Annual Results for Fiscal Year (FY) 2015 »
Introduction to Enforcement and Compliance Assistance »
News Releases
For the most recent Pacific Southwest, Region 9 compliance and enforcement news releases, go to Region 9 Compliance and Enforcement News Releases.
For the most recent nationwide compliance and enforcement news releases, go to Enforcement and Compliance Assurance (OECA) News Releases.
More Information