You are here: EPA Home
The Great Outdoors
The Great Outdoors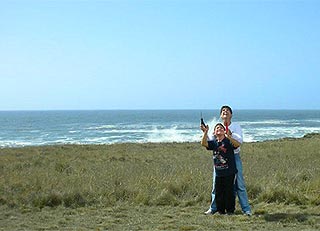 June is Great Outdoors Month, a reminder that there is so much to enjoy and appreciate in the natural environment - across the country or just outside your door. This page lists just a few ideas to help you stay safe and make the most of your time outdoors!
Protect yourself outdoors
Know your air quality. Check the Air Quality Index so you can plan when to limit or avoid working or playing outdoors on days with poor air quality.
Kids! Try the Air Quality Game Show!
Avoid overexposure to UV rays. Check the UV Index to find days when you want to avoid overexposure to damaging sun ultraviolet rays. Then do things to protect yourself like seek shade, and use sunblock that has a protection level of at least SPF 15.
Kids! Take the SunWise Survivor Challenge!
Check your beach water quality. Contact the state office where your beach is located for any water quality advisories.
If you go fishing in the Pacific northwest, check state reports regarding specific fish species in certain streams, rivers, or lakes.
Kids! Choose your adventure and check out heatlhy fish to eat!
Protect the environment outdoors
Don't top off! On hot days, refuel your vehicle in the cooler parts of the day and don't top off to avoid spilling fuel, which contributes to smog.
Reduce waste on your vacation. Find out what you can do before you leave home and when you are on the road.
Find ways to "greenscape" your yard. Not everyone gets to spend their summer vacation in a hammock...
Be smart outdoors with fire. Get some easy reminders because Only You Can Prevent Wildfires.
Help prevent invasive species. Learn how you can help our native ecosystems when you travel - and when you come home.
Getting outdoors
America's National Parks, Monuments, and other historic places preserve some of the nation's finest examples of the natural environment. Be sure to ask park rangers how you
Biking to work can improve your health, save you money, and help you protect the environment by using less energy and fuel to get somewhere.