Schools: Indoor Air Quality
On this page:
Creating Healthy Indoor Environments in Schools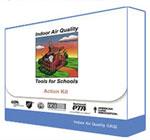 EPA offers information and resources for school officials and staff, teachers, health care professionals, parents, and students to help improve indoor air quality in schools. Read more about:
More about indoor air quality
Why It's Important
Studies show that one-half of our nation's 115,000 schools have problems linked to indoor air quality (IAQ).
Students are at greater risk because of the hours spent in school facilities and because children are often susceptible to pollutants.
The health and comfort of students and teachers are among the many factors that contribute to learning and productivity in the classroom, which in turn affect performance and achievement.
What You Can Do
Ensure proper maintenance of the school's HVAC system to promote ventilation.
Install and regularly replace filters (high efficiency, if possible).
Install carbon monoxide detectors, especially near combustion sources (e.g., boilers, stoves, hot water heaters).
Be sure to consider indoor air quality in the design of a new school building.
Read the Ensure Good Ventilation component of EPA's model school environmental health program with actions for schools to improve the quality of indoor air.
EPA and Federal Partners
The following links exit the site Exit
National Organizations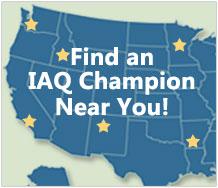 IAQ Champions in your area can help with peer-to-peer learning and sharing.
Database of State Indoor Air Quality Laws,  maintained by the Environmental Law Institute, is a compilation of laws that reflect a wide range of policy strategies enacted in the states. You may also download excerpts addressing radon, mold and schools.
Healthy Air at School  on the American Lung Association website helps individuals recognize indoor air quality problems and protect the air at school.
Indoor Air Quality in Schools: Resource List  by the National Clearinghouse for Educational Facilities offers an annotated list of links, books and journal articles addressing indoor air quality issues in K-12 school buildings, including building materials, maintenance practices, renovation procedures and ventilation systems.
Regional, State and Local Resources