Dredged Material Testing and Evaluation for Ocean Disposal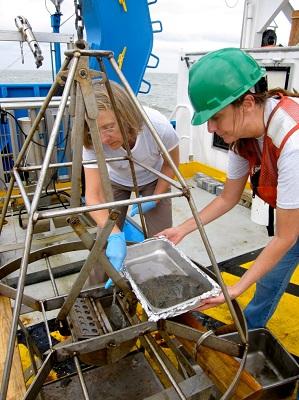 EPA Region 6 staff taking sediment from a sediment grab sample at an ocean disposal site.Dredged material proposed for ocean disposal is evaluated and tested to ensure that the material will not adversely affect human health and the marine environment. The sediments dredged from our nation's waterways sometimes are contaminated by historic chemical pollutants. If biologically available, such contaminants may be ingested or absorbed by marine organisms, resulting in toxicity (e.g., death) or bioaccumulation (accumulation of pollutants in the organism's tissues), which, in turn, exposes other organisms in the food web and ultimately humans when contaminated seafood is eaten.
Evaluation of dredged material for ocean disposal under the Marine Protection, Research and Sanctuaries Act (MPRSA), sometimes referred to as the Ocean Dumping Act, relies on standardized testing using biological organisms (bioassays). The purpose of the evaluation procedures is to ensure efficient and reliable protection against toxicity and bioaccumulation that otherwise may impair the marine environment or human health.
Ocean Testing Manual
In 1991, EPA and U.S. Army Corps of Engineers (USACE) jointly published the Ocean Testing Manual, a national testing manual for the evaluation of dredged material proposed for ocean dumping (also known as the Green Book). Under section 103 of the MPRSA, any proposed dumping of dredged material into ocean waters must be evaluated through use of EPA's ocean dumping criteria (40 CFR 220-229). The Ocean Testing Manual provides guidance for sampling, testing, and analysis of water, sediment and tissue to evaluate the environmental acceptability of dredged material proposed for ocean disposal. Uncharacterized materials are prohibited from ocean disposal (40 CFR 227.5(c)). Therefore, EPA and USACE review sampling and analysis plans to ensure that each project's sediments are appropriately characterized.
Evaluation of Dredged Material Proposed for Ocean Disposal (Ocean Testing Manual, also known as the Green Book)
Regional Implementation Manuals
EPA Regional and USACE District Offices work together to develop Regional Implementation Manuals that provide regional refinements to the national guidance, such as identifying contaminants of concern for particular harbors and recommending specific species of organisms to be used in testing of dredged material.
Region 1:
Regional Implementation Manual for the Evaluation of Dredged Material Proposed for Disposal in New England Waters
Region 2:
Guidance for Performing Tests on Dredged Material Proposed for Ocean Disposal
Region 3:
Mid-Atlantic Regional Implementation Manual for Dredged Material Evaluation for Norfolk and Dam Neck Ocean Disposal Sites
Region 4:
Southeast Regional Implementation Manual for Requirements and Procedures for Evaluation of the Ocean Disposal of Dredged Material in Southeastern U.S. Atlantic and Gulf Coast Water
Region 6:
Regional Implementation Agreement for Testing and Reporting Requirements for Ocean Disposal of Dredged Material off the Louisiana and Texas Coasts
Region 9:
Local regional guidance is provided by San Francisco Bay's Long Term Management Strategy (LTMS) and its Dredged Material Management Office (DMMO) for USACE San Francisco District projects and by the Southern California Dredged Material Management Team (SC-DMMT) for USACE Los Angeles District projects. For all other dredging projects involving ocean disposal, local sediment testing guidance is provided on a case-by-case basis, using the Ocean Testing Manual (Green Book).
Region 10:
Sediment Evaluation Framework for the Pacific Northwest
Related National Guidances
Additional related guidances, including scientific methodologies and environmental evaluation and reporting techniques, are provided in the following documents:
Evaluation of dredged material for inland disposal under the Clean Water Act relies on the use of physical, chemical and/or biological tests to determine acceptability of material to be disposed. The Inland Testing Manual is national guidance which provides best available methods for this CWA evaluation. To learn more about dredged material evaluation under the Clean Water Act, please visit Section 404 of the CWA Web page.
For more information about how sediment testing is used in the issuance of MPRSA permits and, in the case of federal navigation projects, authorizations for dredged material, please see Ocean Disposal of Dredged Material Web page.