Air Sensor Toolbox: What is EPA Doing?
Overview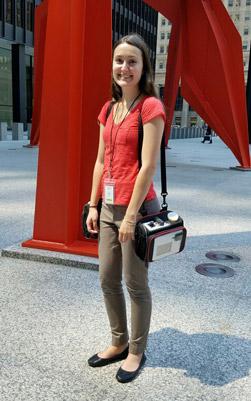 The AirMapper, an air sensor being tested, measures air pollutants while moving.Advances in low-cost compact sensor technologies for air quality measurement are inspiring environmental scientists and the general public to seek information about how to use them. The technology is providing more cost-effective ways to monitor air quality and helping the public learn more about air quality in their neighborhoods and communities. Air sensors are providing new ways to address air quality concerns by providing information on the kinds of pollutants in the air and their concentrations.  
EPA actively supports the development, evaluation and use of new air monitoring technologies by states, communities, tribes, citizen scientists and industry. Efforts to advance air quality monitoring capabilities will enhance current monitoring activities, provide new data not available today, improve access with lower-cost, real-time technology and provide more cost-effective monitoring to help better characterize air quality.
EPA is spearheading many efforts in the U.S. to advance the next generation air monitoring technology. They include:
Conducting Research and Development on Air Sensor Technology

Air Sensor Monitoring and Analysis Tool Research

Advances in air sensor technology are empowering communities and individuals to learn more about local air quality where they live, work and play. The lower-cost and portable technology is supporting the citizen science movement, which promotes public participation in research endeavors to better understand the potential impacts of environmental pollutants to public health.

Some communities are overburdened by poor air quality because of emissions from motor vehicles and other sources of air pollution. These communities have a higher potential for childhood asthma or other public health issues related to poor air quality. New air sensor technology can be used to identify and assess air quality concerns from citizens and take action to reduce their exposure.

EPA is conducting to meet the growing demand for local air quality data to better understand the relationship between air pollution, exposure and human health.

Research areas include:

Sensor Evaluations: A growing number of air sensors for monitoring air quality are being made commercially available, encouraging more widespread use by individuals, citizen groups, researchers, and regulatory officials. EPA is supporting the advancement of air sensor technology by evaluating devices in the laboratory and in field studies. The goals of these evaluations are:

Develop a better understanding of basic sensor performance characteristics
Provide results to sensor manufacturers that encourage improvements in sensor performance
Communicate findings to stakeholders to improve outcomes of sensor applications.


Air Sensor Development: Mobile and lower cost sensors for citizen scientists are being developed to collect air quality data in real time in a given area, such as a neighborhood or city and to be worn by individuals as they go about their daily activities. 
Village Green Air Monitoring System: The Village Green Project is a flagship research project to measure real-time local air quality with an innovative solar and wind-powered system, designed and incorporated into a park bench. The air measuring benches installed at numerous locations in the U.S. are being tested in partnership with state and local organizations to advance air quality measurement capabilities.
AirMapper: The AirMapper is a new portable air sensor that EPA researchers are developing to allow environmental conditions to be easily mapped by researchers and citizen scientists. The AirMapper is a small instrument case that can be carried or attached to a bicycle, and includes rechargeable battery power, a global positioning system (GPS), particle pollution sensor, and other sensors measuring environmental conditions (e.g., temperature, humidity). The AirMapper uses miniaturized sensors for exploring air quality and a touchscreen interface. Participants can explore the various measurements collected using a free data explorer tool that EPA developed, called RETIGO.
PM Sensor: A miniaturized sensor is under development through a Cooperative Research and Development Agreement (CRADA) with ACLIMA, a technology company in California.
Data Mapping Tools: The increased availability of air measurement tools that are less costly and portable has resulted in more individuals and groups measuring air quality. After the data is collected, technical hurdles may exist to explore and analyze the measurements. There is growing interest in visualizing data through an interactive, web interface so that the measurements can be more easily and effectively analyzed. EPA researchers are developing analytical tools such as the REal-Time GeOspatial Data Viewer (RETIGO) that enable users to easily analyze the data they have collected.
EPA-Funded Research: To tap the creativity and ingenuity of scientists across the country, EPA's Science to Achieve Results (STAR) Program is supporting the advancement of air sensor technologies with grants to universities and research organizations to develop innovative air monitoring instruments for use by the public.

Related Resources:

Helping Communities and Citizen Scientists Use Air Sensors

EPA is partnering with communities in a variety of ways to help the public learn more about local air quality using air sensor monitors. Environmental justice communities impacted by multiple sources of air pollutants from major roads, railyards and ports are receiving assistance with air monitoring projects to evaluate their impacts. Grants have been awarded to universities and other institutions that have scientific expertise to develop air sensors and air sensor networks while involving communities in the research projects. Other partnerships are providing opportunities for the public to learn about air quality while visiting a library, museum, school or other public place. EPA's Village Green Project is partnering with state and local organizations and groups to demonstrate air monitoring stations built into park benches in cities across the U.S. These stations provides minute-to-minute information on air quality and weather conditions.

To help the public understand what actions to take as a result of their sensor readings, EPA is conducting a sensor scale pilot project to test a new tool for making instantaneous outdoor air quality data useful to the public.

Resources:

Assisting Developers and Small business with Air Sensor Technology Development.

EPA has examined and continues to evaluate sensors in the marketplace as they become available and is providing performance evaluations of air sensors in peer-reviewed publications. Researchers are also integrating these technologies into a variety of projects for study. 

Funding opportunities for small businesses to develop air sensor monitoring technology are available and opportunities to collaborate on projects through cooperative research and development agreements have been created. For example, EPA is currently collaborating with Aclima, Inc. and its partners to advance next generation air quality sensing technology and provide more mobile and less expensive air sensing capabilities for citizens, communities, air quality managers, businesses, and others interested in air quality issues.

Resources: