Learn About Biogas Recovery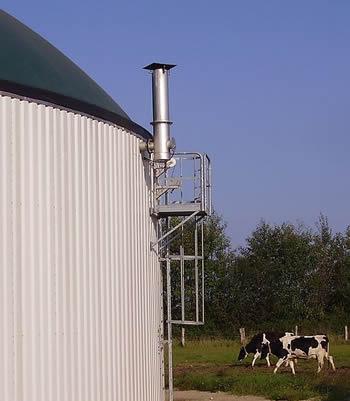 Haase maize anaerobic digester
Credit: CC-BY-3.0 by FVortexrealm
Biogas is created when animal waste, or manure, decomposes. Capturing biogas from cattle, hog and poultry farms can reduce greenhouse gas emissions and recovering the methane from the biogas can provide a cost-effective source of renewable energy. Recovered biogas can be an energy source for electricity, heating or transportation fuel.
Biogas recovery is a proven technology that is widely used in sectors like food processing and wastewater treatment. In agriculture, biogas recovery systems are already used at hundreds of farms, and could be used at thousands more cattle, hog and poultry farms. For example, AgSTAR estimates that biogas recovery systems are technically feasible at over 8,000 large dairy and hog farms alone!
A natural process called anaerobic digestion creates biogas. Anaerobic digesters are closed systems that harness this natural process to produce biogas and other useful coproducts. These systems also reduce odors, pathogens and waste. 
Learn more about:
---
How does anaerobic digestion work?
Anaerobic digestion is a process through which bacteria break down organic matter—such as manure—without oxygen. As the bacteria "work," they generate biogas. The biogas that is generated is made mostly of methane, the primary component of natural gas. The non-methane components of the biogas are removed so the methane can be used as an energy source.
Some types of organic matter break down more easily than others. Generally, the more "digestible" the organic matter is, the more biogas can be produced.
Codigestion occurs when anaerobic digestion is used to break down multiple types of organic waste in one anaerobic digester. Organic wastes that can be used in codigestion with manure include restaurant or cafeteria food wastes; food processing wastes or byproducts; fats, oil and grease from restaurant grease traps; energy crops; and crop residues. Codigestion can increase biogas production from low-yielding or difficult-to-digest organic waste. 
A biogas recovery system includes:
Learn more from the following resources: