Guidelines and Permitting for Livestock Anaerobic Digesters
You will need Adobe Reader to view some of the files on this page. See
EPA's About PDF page
to learn more.
Biogas recovery systems that use anaerobic digestion are sophisticated systems. To help you plan and optimize your anaerobic digester, AgSTAR provides the following information:
---
Anaerobic Digester Guidelines
These resources can help you evaluate anaerobic digester designs, build and implement an anaerobic digester, and operate and maintain the system:
---
Codigestion Guidelines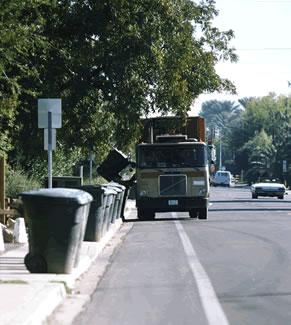 Codigestion occurs when more than one type of organic waste is fed into an anaerobic digester. Codigestion can increase methane production from low-yielding or difficult to digest farm-based feedstocks.
Codigestion Feedstocks
Codigestion feedstocks can be collected from other nearby sources including restaurant or cafeteria food wastes; food processing wastes or byproducts; fats, oil and grease from restaurant grease traps; energy crops; crop residues; and others. Codigestion feedstocks should be carefully selected to enhance—not inhibit—methane production.
Testing potential codigestion feedstocks helps owners understand the potential for biogas production, effects on methane production and other attributes. Methods for testing attributes of codigestion feedstocks include:
The composition of feedstocks in anaerobic digesters also has a significant influence on the biogas produced. This resource discusses energy from common codigestion feedstocks:
Laboratories that Conduct Testing of Anaerobic Digester Feedstocks
To find a university or private laboratory that tests anaerobic digester feedstocks, contact your system designer for references or contact your state university's agriculture department.
---
Interconnection Guidelines
Interconnection is the physical linking of a biogas recovery system to the electrical power grid.  Biogas recovery systems connected to the electrical power grid generate renewable energy, which is distributed to energy consumers on the grid.  The sale of electricity can generate revenue for biogas recovery system owners. Additionally, renewable energy certificates (RECs) and other environmental credits can be earned from producing and distributing the energy.
Interconnection Guidelines provide general guidance for connecting a biogas recovery system to the electrical power grid.
---
Permitting
Anaerobic digesters must meet local, state and federal regulatory and permitting requirements for air, solid waste and water. These requirements are in addition to permitting requirements for Concentrated Animal Feeding Operations (CAFOs). Anaerobic digester permit requirements vary by location and change frequently. Local, state and federal resources can help you navigate the permit process.
Local Permit Requirements
Anaerobic digesters may be subject to local government permit requirements for a range of municipal issues, such as construction, zoning and stormwater management. Contact your local government to determine current rules before constructing or operating anaerobic digesters.
State Permit Requirements
In addition to administering federal regulations, state agencies also administer their own state air, solid waste and water permit requirements.
Consolidated or General Permit Process
Some states provide the option of a consolidated permit process, which has several benefits:
Allows permit applicants to have all of their state environmental permits coordinated by one agency;
Makes the process easier by providing a single point of contact for multiple permits;
Identifies needed permits earlier in the process; and
Decreases duplicate information to various agencies.
Contact your state environmental agency to determine current rules before constructing or operating anaerobic digesters.
Air
Combustion devices used for energy generation may require state air permits if the devices operate over federal thresholds.
Some states have additional state-specific thresholds that require state air permits.
Solid Waste
Waste processing facilities are required to meet Resource Conservation and Recovery Act (RCRA) Subtitle D requirements (which cover non-hazardous solid wastes) and 40 CFR Part 258 (which covers landfills).

Many states exempt manure-only anaerobic digesters from solid waste permit requirements.

Some states may exempt all farm digester systems or only some systems based on the type and volume of feedstocks processed. For example, farms may require permits if they rely on codigestion, accept any offsite waste or accept offsite waste above a threshold amount.
Water
The presence of an anaerobic digester on a CAFO does not change the federal CAFO requirements, which some states administer.

EPA considers large CAFOs as point sources of water pollution. Therefore, CAFOs require National Pollutant Discharge Elimination System (NPDES) permits. CAFOs also must develop and maintain Nutrient Management Plans to ensure appropriate land application of manure. Anaerobic digesters with solids separation may give farms more control over how they apply nutrients.

Medium CAFOs may face similar requirements as large CAFOs. Some states include smaller farms in their animal feeding operations programs depending on past performance or other site conditions.

Smaller farms must comply with the NPDES requirements if they discharge to waters of the U.S. through a manmade device or through direct contact of the animals with waters of the U.S.

Some states have additional water permit requirements for farm-based anaerobic digester operations that codigest other feedstocks with manure.
State-Specific Requirements
Federal Regulatory Requirements
The federal government issues regulations. These regulations establish the minimum guidelines a state can use for permitting. More restrictive state regulations replace federal regulations.
Air
Onsite combustion devices used for energy generation may require federal permits if the devices trigger federal emissions thresholds and other federal regulatory permit requirements. Conversely, if air emissions from these devices are below federal thresholds they may be exempt from permit requirements. The following regulations establish the federal thresholds:
Standards of Performance for New Stationary Sources (40 CFR Part 60)
Solid Waste
Waste processing facilities must meet Resource Conservation and Recovery Act (RCRA) Subtitle D requirements (which cover non-hazardous solid wastes) and 40 CFR Part 258 (which covers landfills). See Managing Non-Hazardous Municipal and Solid Waste.
Federal laws do not require solid waste permits for the anaerobic digestion of manure at farms. However, the acceptance of other organics may designate farms with anaerobic digesters as waste processing facilities in some states.
Water
There are no national water-related permit requirements specifically triggered by use of anaerobic digesters.