Visiting EPA's Region 6 Office in Dallas
On this page:
Address
US EPA Region 6
Fountain Place
1445 Ross Ave.
Dallas, TX 75202-2750
(800) 887-6063
(214) 665-2760 if calling from outside Region 6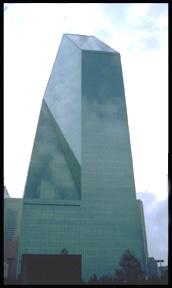 Building Access
The Fountain Place building is open weekdays from 8:30 am to 5 pm. There is limited access to the building after hours and on weekends. Main entrances to the building are located on the north and the west sides.
All visitors should go to the reception area on the 7th floor upon arrival. You will need to surrender a photo ID in exchance for a visitor's badge.
All EPA visitors will be issued a visitor badge by the floor receptionist. Once their business is completed, visitor's IDs is returned in exchange for this visitor's badge.
Fountain Place Facilities
Regional Administrator Reception Area - 13th floor
Conference Rooms - 12th floor
Au Bon Pain Restaurant - 5th floor
Snack Shop, Dry Cleaners, and Deli - B1
Tunnel System
A few blocks south of Fountain Place begins an underground tunnel system that links many buildings, restaurants, and businesses. Some of the places accessible through the tunnel are thre Bank of America and Subway. The entrance to the tunnel is on Field Street south of Fountain place and just north of the Akard DART Station.
Directions and Parking
Driving Directions
Fountain Place is located in downtown Dallas at the northeast corner of Field Street and Ross Avenue.
From North ⁄US-75
Follow US-75 South take the I-35 to Waco exit which will put you onto Woodall Rogers Freeway westbound.
Take the Field Street exit and turn left onto Field Street.
The building is located at the corner of Field Street and Ross Avenue.
From South ⁄I-35
Follow I-35 North towards Denton. Just past the intersection with I-30 take ramp to US-75. This will put you on the Woodall Rogers Freeway.
Take the first exit off of Woodall Rogers which will be the Field Street Exit.
At Field Street turn right.  The building is located at the corner of Field Street and Ross Avenue.
Parking
There are several parking lots near Fountain Place, and a limited amount of metered street parking in the area.  These parking lots are not attended and machines do not give change.
Airports
Public Transportation
Dallas Area Rapid Transit (DART) Exit runs city buses and the rail system. Closest DART stop is Akard station (Red, Orange, Blue, and Green lines) which is located four blocks south of Fountain Place.