EPA Region 8's Environmental Information Service Center
On this page:
---
How Can We Help?
It can be difficult finding the right person to speak to about a specific environmental question. That's why EPA Region 8 created an Environmental Information Service Center (EISC) in 1993.
The EISC Information Specialists process numerous phone and email inquiries per month from the entire United States.
Questions answered by the specialists pertain to the following topics:
Asbestos
Drinking water
Environmental grants
Green products and services
Household hazardous wastes
Indoor and outdoor air quality
Lead
Mold
Pesticides and herbicides
Pollution prevention
Radon
Recycling
Superfund sites - and
Vehicle emissions.
---
Customer Service
The EISC takes pride in its customer service. Inquiries are received via telephone, email requests, and drop-in visitors. Whether you're in need of an expert at EPA, a website address, a hotline number, or a contact in a state or local government agency, EISC can help you find the resource or answer. We are always interested in your comments regarding our customer service so that we can serve you better.
Here are some examples of the types of questions EISC receives:
The ceiling in my house contains 8 percent asbestos. Is this a problem?
Who can help me with an environmental issue on Tribal land?
Can you advise me on how to start an eco-friendly business?
How can I get my home tested for radon?
I want to import a vehicle into the USA. Whom must I contact?
What is the current allowable level of arsenic in drinking water?
---
Phone and Email Inquiries
The EISC is open Monday through Friday, 9 a.m. – 4 p.m. (Mountain Time), excluding federal government holidays.
Email us at r8eisc@epa.gov or call us at 303-312-6312 or 1-800-227-8917, and we will be happy to assist you with your inquiry.
Information Specialists:
Maintain an extensive directory of EPA, state, and local government agency contacts, and
Can answer the question or direct the caller to the appropriate person or agency;
Process numerous inquiries per month from concerned citizens, students, university faculty, and other government agencies;
Respond to email requests from the EPA Region 8 states and from locations anywhere within or outside the U.S., and
Strive to ensure that all email inquiries are responded to within 48 hours.
---
Drop-in Visitors
Drop-in visitors are greeted by an EPA Information Specialist after passing through the security screening, and signing in at the front desk. Access to the Center is available on Monday through Friday, 9 a.m. – 4 p.m (Mountain Time), excluding federal government holidays. Visitors are welcome to free EPA publications in the EISC visitor center on the first floor and at the Region 8 Technical Library on the second floor.
---
Photos of the EISC
View of the EISC's interior space: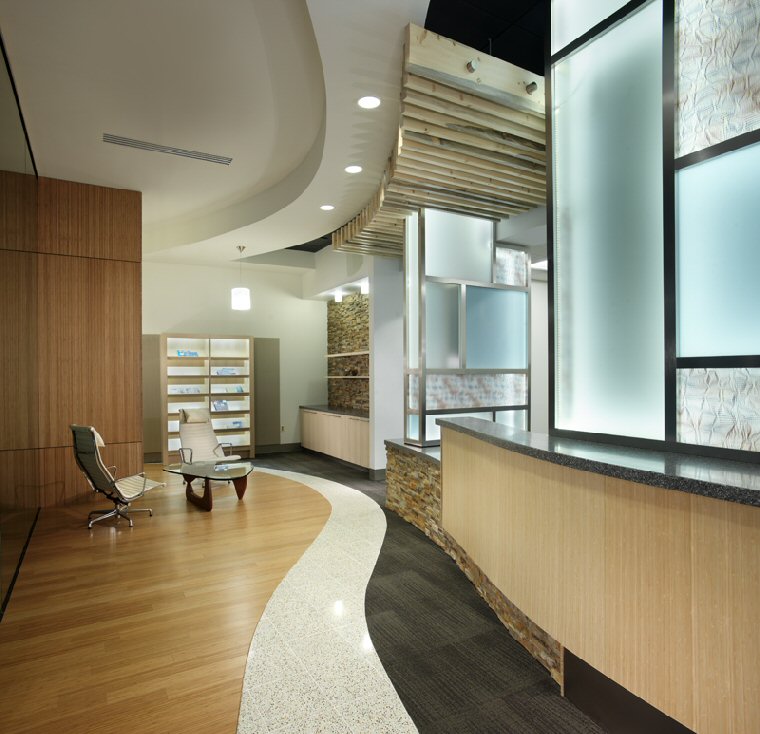 ---
How to Contact or Find the EISC
Mailing Address:
US EPA, Region 8
1595 Wynkoop St (8OC-EISC)
Denver, CO 80202-1129
Direct: 303-312-6312
Toll-free for EPA Region 8 callers – Colorado, Montana, North Dakota, South Dakota, Utah, Wyoming: 800-227-8917
Email address: r8eisc@epa.gov or use our electronic Comments Form.
Please Note: 8OC-EISC is the internal mailcode for EPA Region 8 EISC. Therefore, when sending mail to a specific person or department within EPA Region 8, please include the internal mailcode for the specific person or department you'd like the mail to reach. If you are uncertain of the internal mailcode to use, please call EISC for assistance.