You are here: EPA Home
Safer Paint Alternatives
Safer Alternatives to Copper Anti-Fouling Paints
The San Diego Unified Port District project successfully established the viability of non-copper anti-fouling boat hull coatings both for performance and cost-effectiveness. This work will be used to reduce copper pollution in marinas that can harm marine life.
Coastal bodies nation-wide are experiencing myriad water quality challenges. Marina basins, in particular, often exceed local and state water quality standards for metals such as copper which are commonly painted onto boat hulls. Known as an anti-fouling coating, copper repels marine organisms which attach themselves to boat bottoms and can cause damage to the boat's structural integrity while reducing the vessel's fuel efficiency.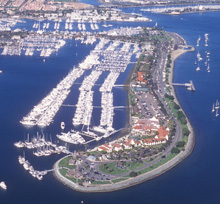 However, in San Diego and other California cities there is growing concern over the water quality impacts from copper, for which state water quality standards have been established

. These water quality standards, known as Total Maximum Daily Load, have found that all of San Diego's eight marina basins suffer from overloading of copper, virtually all of which is caused by passive leaching of the copper from anti-fouling coatings and periodic hull cleaning by divers. Because copper is a biocide, it can harm the marine life living in and around marina basins.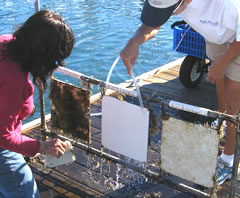 To address this problem, the California Regional Water Quality Control Board has mandated that copper loading in the Shelter Island Yacht Basin will need to be
reduced by 76% by 2028

, necessitating the use of non-copper alternatives.
To find and promote the use of safer alternatives to copper anti-fouling coatings on marine vessels, EPA awarded the San Diego Unified Port District with $190,000 in grant funding to test a variety of new non-copper hull paints

in San Diego, where particular high copper concentrations abound. The project occurred from January 2008 through December 2010. Panel testing and boat testing of alternative paints, including an evaluation of their respective performance and cost were done.
Project Team
San Diego Unified Port District
Los Angeles-based Institute for Research and Technical Assistance
San Diego Diving Services
AMECE Each & Environmental Consulting. 
The project team encouraged public participation at the Unified Port District-hosted Stakeholder Workgroup Meetings where boat owners, paint manufacturers and the general public were asked to provide their feedback on the alternative coatings, boat-hull cleaning practices, panel testing, and reporting.
Some of the newly tested paints were, like copper, biocides such as zinc and organic biocide paints.  Alternative biocides have unknown environmental and health effects, but it is likely that the buildup of zinc would also cause negative impacts to the aquatic environment.  Non-biocide coatings were also tested. These were found to cause no harm to marine life or their aquatic environment, nor did they put human health at risk. 
In the first stage of the project, the coatings were applied to fiberglass panels which were submerged in the Shelter Island Yacht Basin, pulled out four months later, cleaned and assessed.  The project team assessed:
the coatings' effectiveness in repelling or preventing the growth of sea creatures and plants, and
the ease of hand-cleaning the panels compared to copper-painted boat hulls.
In all, the project team panel-tested forty-six alternatives to copper-based paints, twenty-one of which were identified as top performers.  Eleven of these were then tested directly on boat hulls for a period of 20 months, ending in October 2010.  Four of these boat bottom-tested coatings met the project criteria for performance.  Two of them were non-biocide products (Intersleek 900 and Hempasil X3) and two were zinc-biocides (Ecominder and Seaguard HMF).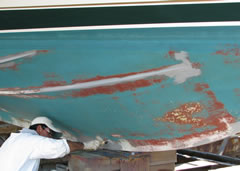 In addition to their environmentally-friendly qualities, the preferred non-biocide paints demonstrated cost-effectiveness due to their longevity (15+ years) and cleaning frequency similar to copper-based paints.  The Port released a coating selection matrix (PDF), so recreational boaters can make choices among coating alternatives based on use patterns, performance, and cost.
Non-biocide coatings show particular promise due their ability to provide anti-fouling protection while ensuring the well-being of aquatic life and human health.  EPA Region 9 is expanding this project by providing a CA Department of Toxic Substances Control

grant to exclusively test non-biocide coatings in Southern California and the San Francisco Bay Area.  This project aims to find methods of making it easier and less costly to use non-biocide paints.  
For further information, access the project's final report: Safer Alternatives to Copper anti-fouling Paints for Marine Vessels.