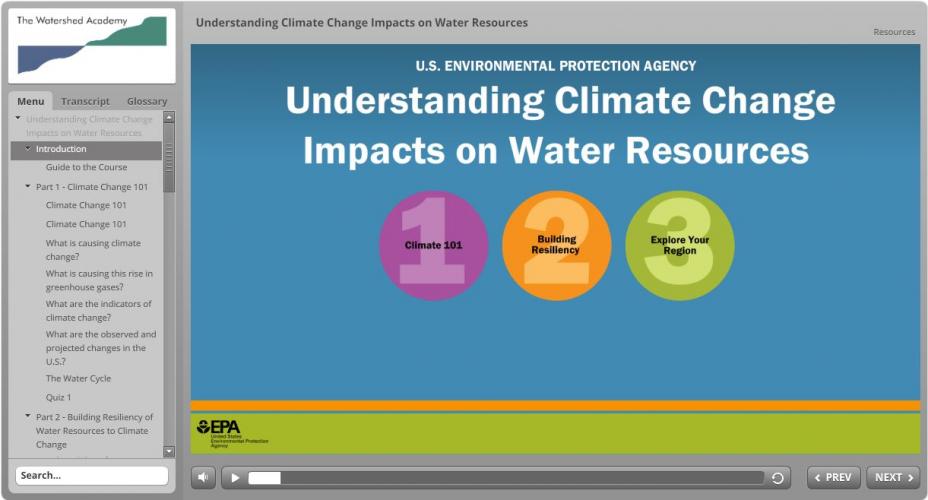 This course is best viewed in Chrome.This training module is designed to increase your understanding of the causes of climate change, its potential impacts on water resources, and the challenges water resource managers are facing. The course contains three parts which will take about 45 minutes to complete. Optional supplementary information on climate change impacts in the United States is included at the end of the course if you are interested in more details. This module is one of the core modules for the Watershed Academy Certificate Program.
Completing this course entitles EPA employees to one Continuous Learning Point (CLP) for this training. Non-EPA professional certifications can be used according to the following conversion table:
| Certifications | Conversion |
| --- | --- |
| Continuing Education Unit (CEU) | 10 CLPs per CEU |
| Professional Development Unit (PDU) | 1 CLP per PDU |
| Continuing Professional Education (CPE) | 1 CLP per CPE |
If you have completed this course and would like to receive a certificate for the course, please send an email to wacademy@epa.gov.
Note: This module includes both audio and video. Some features of the module may be unavailable on mobile devices or some web browsers. A transcript of the audio can be found under the Transcript tab within the course player itself. In addition, the transcript, photo credits and list of additional resources contained within the module can also be accessed below:
You will need Adobe Reader to view some of the files on this page. See EPA's About PDF page to learn more.