Zone 2, USS Lead Superfund Site
Site Update - Dec. 8, 2016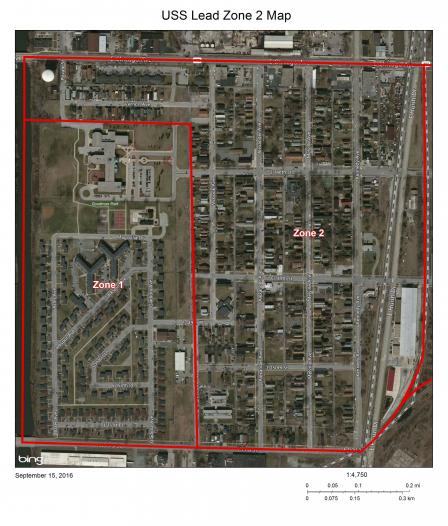 On Nov. 1 EPA workers began cleanup activities in Zone 2 to manage elevated lead and arsenic levels in residential soil. EPA first worked on the properties with high lead and arsenic levels in the top 6 inches of soil.
In total, EPA excavated, backfilled and restored 17 properties during November. Cleanup actions have stopped for the winter months but will continue in the spring. Along with yard cleanups, EPA offered indoor dust sampling to residents. Dust was collected and tested for lead and arsenic. Houses that have results above safe levels will be scheduled for an indoor cleaning beginning in December.
EPA is continuing to conduct soil sampling in Zone 2 to develop engineering plans for the cleanup of the entire site. To date, EPA has sampled soil from 476 of the 596 properties in Zone 2. Soil sampling will occur occasionally through the winter months as weather permits and access is granted on the few remaining properties.
Before soil cleanup resumes in 2017, EPA officials will meet with each property owner to discuss details of the work on their property. In general, workers will dig up and remove contaminated soil about 2-feet deep and replace it with clean soil, including 6 inches of topsoil. Then they will put sod on the clean soil, restoring each yard to its original condition. All work will be done at no cost to the homeowner. Contaminated soil from Zone 2 will be transported to a licensed landfill for proper disposal.
Background
Zone 2: The residential area of the Calumet neighborhood located between the West Calumet Housing Complex on the west, the Elgin Joliet and Eastern Railway on the east, E. 151st Street to the south and E. Chicago Avenue to the north. There are 587 properties in zone 2. EPA is working to get access agreements from all properties in zone 2 and has begun soil sampling. 
Information for Residents in Zone 2 
EPA community involvement coordinators have gone door-to-door warning residents not to allow children to play in dirt and providing information on ways to reduce exposure to possible lead in soil. Exposure to high levels of lead in soil can cause various health problems, especially in young children.
To ensure the health and safety of children, the federal Agency for Toxic Substances and Disease Registry, or ATSDR, advises parents to prevent children from playing in dirt or mulch, to wash their children's toys regularly and to wash children's hands after they play outside. All residents should remove shoes before walking into their homes.
Fact Sheets