Case Studies in Prevention, Control and Reduction of Marine Debris

---
Abandoned and Derelict Vessels (ADV)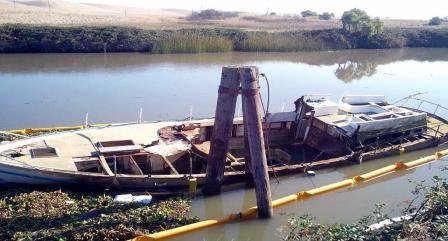 Abandoned vessels pose a high risk of water contamination.In the past few years, EPA has focused significant efforts toward removing threats to human health and the environment posed by the largest type of marine debris -- abandoned and derelict vessels at several sites on the West Coast. Vessels that are in severe disrepair or lack visible ownership typically harbor hazardous substances and/or oil. Existing federal pollution response authorities and funding sources were used to evaluate and mitigate these risks, including the Comprehensive Environmental Response, Compensation and Liability Act (CERCLA), the Clean Water Act (CWA) as amended by the Oil Pollution Act (OPA), and their implementing regulations, found in the National Oil and Hazardous Substances Pollution Contingency Plan (the NCP).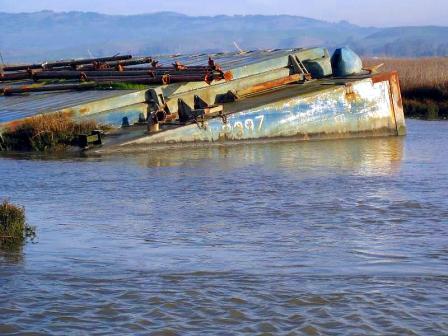 Abandoned and derelict vessels have been found containing oil, asbestos, lead based chemicals, and many other varieties of hazardous substance; All of which would make the surounding water dangerous for wildlife and humans.EPA's Pacific Southwest Region has coordinated with the Coast Guard and California EPA (CalEPA) on abandoned vessel and marine debris cleanups in Northern California, including in the Petaluma River, Bodega Bay, the Bay-Delta, Sacramento River, Humboldt Bay, Tijuana Estuary, and the Oakland Estuary in San Francisco Bay. Since 2011, EPA and its federal and state partners removed more than 200 abandoned vessels and other large marine debris at these sites at a total cost of approximately $15 million.
Of this, approximately 40% came from EPA's Regional Superfund Advice of Allowance and 20% from the National Oil Spill Liability Trust Fund. The remainder, approximately 40%, was contributed by CalEPA and included a $650,000 grant from the Cosco Busan Oil Spill Settlement fund administered by the National Fish and Wildlife Foundation. The projects included removal of abandoned vessels, dilapidated piers, and debris piles containing hazardous waste containers, oil tanks, lead-based paints, asbestos, marine batteries and e-wastes, among many other contaminants and solid waste.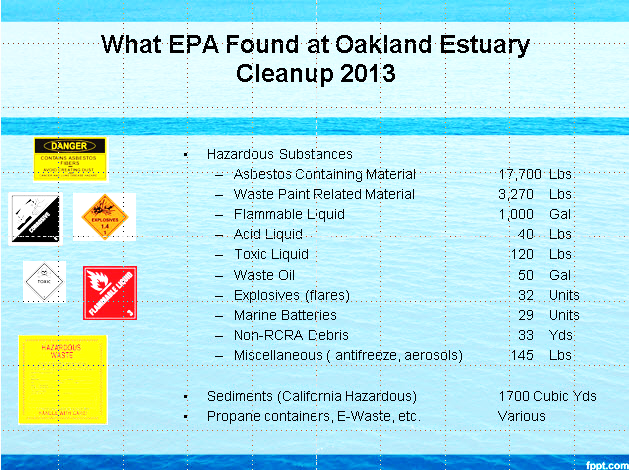 What EPA Found at Oakland Estuary Cleanup 2013. Hazardous Substances: Asbestos Containing Material-17,700 lbs, Waste Paint Related Material-3,270 lbs, Flammable Liquid-1,000 Gal, Acid Liquid-40 Lbs, Toxic Liquid-120 Lbs, Waste Oil-50 Gal, Explosives (flares)-32 Units, Marine Batteries-29 Units, Non-RCRA Debris-33 Cubic Yards, Miscellaneous (antifreeze, aerosols)-145 Lbs. Sediments (California Hazardous)-17,000 Cubic Yards. Propane Containers, E-waste, etc.- Various
These cleanups provided valuable lessons for future actions, demonstrating that the sooner an abandoned vessel or other large marine debris is removed from the aquatic environment, the less expensive the operation and the less impact on the environment. For example, in 2013, as part of the CERCLA Oakland Estuary Marine Debris Removal Action, EPA spent more than $3 million just to pump out an estimated 1,700 cubic yards of contaminated sediment from two large sunken tugs before they could even be raised to address the oil and hazardous substance threats.
One of these boats, the 150 foot tugboat "Respect," was a long-standing candidate for removal prior to sinking because it posed a potential obstruction and hazard to navigation. EPA's analysis indicated that had the boat been removed under the Rivers and Harbors Act while it was still floating in 2007, the estimated cost of removal would have been less than $500,000 would have prevented the release of oil, asbestos, and other contaminants that entered the estuary after sinking.
Plastic In Estuaries
---
Risk Assessment