Basics of TRI Reporting
Every year, TRI data are submitted by certain industrial facilities and made available to the public; an overview of this process and the TRI reporting criteria are provided below. Please note that the reporting criteria are described in general terms, and that more specific guidance is available in the TRI Reporting Forms and Instructions document.
 Annual Data Collection Cycle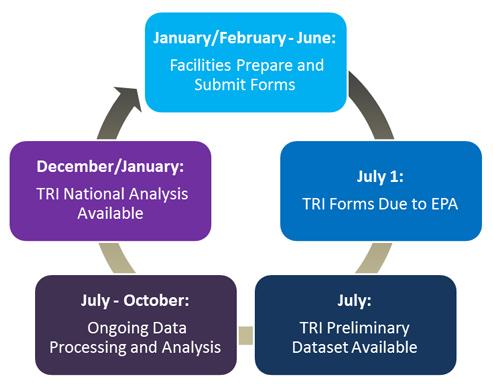 To learn more about the annual data collection cycle, click on one of the time periods below:
Ongoing Activities
The TRI Program conducts data quality checks and provides analytical support for enforcement efforts led by EPA's Office of Enforcement and Compliance Assurance (OECA).
Preparations continue for the next TRI reporting cycle.
Reporting Criteria
If a facility meets all three of the criteria below, it must report to the TRI Program:
Method of Reporting
Facilities submit TRI reporting forms using TRI-MEweb, EPA's online TRI reporting application.