Tools for Assessing Wasted Food
On this page
---
Why Assess Wasted Food?
The first step in reducing wasted food is to measure it. A wasted food audit serves as the foundation for reduction efforts. By using EPA's wasted food assessment tools, food service establishments can:
Save money by reducing over-purchasing and disposal costs
Reduce environmental impacts
Support efforts to eliminate hunger
Increase tax benefits by donating food; and
Support community waste reduction efforts.
EPA provides a variety of wasted food assessment tools to suit a food service establishment's unique circumstances. Those just starting to consider measuring and tracking their wasted food may want to begin by conducting a baseline assessment with the Food Waste Assessment Guidebook, as it takes minimal labor and time to complete. Those seeking to achieve the highest cost savings and largest waste reductions may find that daily tracking of wasted food and/or packaging with EPA's Toolkit for Reducing Wasted Food & Packaging or with simple Paper Tracking Waste Logs better suits their waste reduction goals.
---
Food Waste Assessment Guidebook
One way to identify what types of food and how much is being wasted is to perform an assessment of waste once it has already been thrown out.
Retail, food service, and other food management establishments can use the Food Waste Assessment Guidebook to learn how to take a "snapshot in time" of their wasted food by either manually sorting through materials in a garbage sample or by visually observing and estimating waste.
---
Toolkit for Reducing Wasted Food and Packaging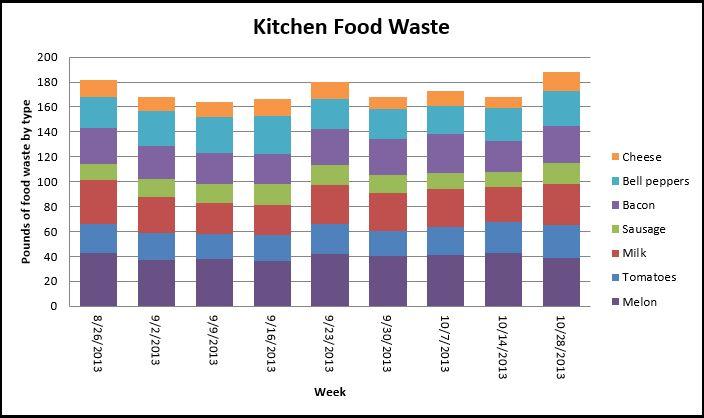 Information on the reason for waste such as over-preparation or improper cooking is important to collect in order to make meaningful changes. Food service establishments can use this tool to track the daily amount, type of, and reason for wasted food and packaging. Users enter information into the Food and Packaging Waste Prevention Tool(9 pp, 914 K) which automatically creates graphs and data summaries to help identify patterns of waste generation. Based on these patterns, a business can make strategic changes to its operation to maximize waste reductions and cost savings.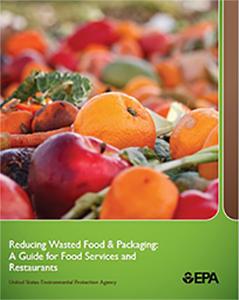 An accompanying guide, the Reducing Wasted Food & Packaging: A Guide for Food Services and Restaurants provides source reduction strategies and case studies of food service establishments turning audit results into actions to successfully prevent wasted food.
Note: The tool requires a minimum of two weeks of daily tracking by staff and weekly data entry for best results.
---
Food Waste Management Cost Calculator
The Food Waste Management Cost Calculator(1 pg, 586 K) estimates the cost competitiveness of alternatives to food waste disposal, including source reduction, donation, composting, and recycling of yellow grease. The calculator:
develops an alternative food waste management scenario based on your waste profile, availability of diversion methods, and preferences, and
compares cost estimates for a disposal versus an alternative scenario.
This calculator demonstrates that environmentally and socially responsible food waste management is cost-effective for many facilities and waste streams. The more you know about your current waste management costs, the more accurate the calculator's estimate will be, but default values are provided for many variables.
---
Paper Tracking Waste Logs
Paper Tracking Waste Logs can be printed and used to track the quantity and reason for waste.
---
Waste Reduction Model
The Waste Reduction Model (WARM) tool helps organizations track and voluntarily report greenhouse gas emissions reductions from several different waste management practices.

For the full example, see the SMM Web Academy presentation "Measuring Food Waste and Packaging Impacts in WARM".
---
Training Webinars
EPA hosts webinars designed to provide useful information to Food Recovery Challenge (FRC) participants and endorsers and to others interested in learning about sustainable management of food. Experts from across the nation offer technical assistance and insight into various food recovery-related topics and best management practices to support the work of various sectors of the FRC, such as grocers, venues, universities, and the hospitality industry.