Track & Report
Tracking and reporting progress is an important part of public projects and programs. Tracking progress can help local entities assess program performance and success; identify specific areas for improvement or expansion; monitor local trends; and make informed decisions about future policies, goals, and actions. Public reporting can help generate interest in a project, promote accountability, improve project management, demonstrate progress, and attract political and financial support for the project.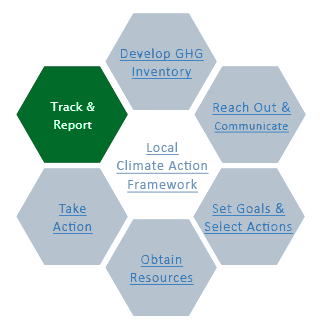 Consider developing the plan to track and report early in the project, during the program design phase (see the Take Action phase for more information). Early planning allows the project team to establish a more complete understanding of the project's intended impact and ensure that systems are in place to collect data throughout project implementation. If established early, tracking and reporting can be incorporated into the budget, schedule, and resource needs. However, it is never too late to establish a plan. Even if a program has been in place for many years, there are many benefits to tracking how things change.
The following key steps walk through developing, tracking, analyzing, and reporting on performance indicators. This simple approach shows how a combination of quantitative and qualitative indicators can be used to support a variety of programs. For detailed information about quantifying greenhouse gas (GHG) emissions, visit the Develop GHG Inventory phase.
Key Steps

Printable Checklist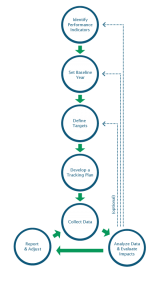 View Diagram
The exact process for tracking and reporting will vary by project and entity. This guidance outlines several key steps that are likely to be part of any tracking and reporting process. While each step is unique and important, some entities may find some steps are more relevant than others based on their situation. More importantly, the steps are not necessarily intended to be pursued in linear order, and they may require multiple iterations, as shown in the diagram. The final three steps in the process are a continuous loop, whereby progress is tracked, analyzed, and reported, and the project is adjusted; tracking and reporting progress is an ongoing and iterative process that provides continuous feedback to improve projects and programs.
Case Studies
Philadelphia, Pennsylvania: Greenworks PhiladelphiaExit
An ambitious plan, with accompanying progress reports, that sets 15 sustainability targets in the areas of energy, environment, equity, economy, and engagement.
Seattle, Washington: The Seattle EcoDistrict (138 pp, 15.5 M, About PDF) Exit
An example of how to develop, measure, and report indicators in a way that is visually appealing and easily accessible to the public and decision-makers.
San Jose, California: Green Vision GoalsExit
A website that demonstrates how San Jose is publicly communicating progress toward 10 discrete goals related to its sustainable community plan.
Southern Tier, New York: Cleaner Greener Southern Tier (187 pp, 6.17 M, About PDF) Exit
A sustainability plan that spans eight counties in New York State and identifies 18 indicators to measure progress in nine performance areas. Call-out boxes highlight the 2010 baseline and 5-year and 20-year targets.
Massachusetts: GreenDOT Implementation Plan (71 pp, 954 K, About PDF) Exit
A plan to achieve the Massachusetts Department of Transportation stewardship goal that outlines sustainability initiatives, goals, tasks, indicators, implementation time horizons, and responsible divisions.
Further Reading
Acknowledgements:
EPA would like to acknowledge Arturo Blanco (Houston Bureau of Air Quality Control, Texas); Lisa Lin (City of Houston Mayor's Office of Sustainability, Texas); Seth Stark (WSDOT, Washington); Timothy Burroughs (City of Berkeley Office of Energy & Sustainable Development, California); Frank Cunningham (City of Columbia, Missouri); and Maria Sanders (City of El Cerrito, California) for their valuable input and feedback as stakeholder reviewers for this page.