Set Goals & Select Actions
Setting goals is extremely important for guiding and framing choices at all phases of project planning, implementation, and evaluation. Clearly articulated goals can help communities develop effective programs, communicate the intent of the programs to the public, and select specific actions to help meet the articulated goals. Thinking early on about goals can ensure a program is cohesive, well designed, appropriate for the community, and proactive rather than reactive. While this phase may be relatively straightforward compared with other phases of project development, it is nonetheless important in developing a climate, energy, or sustainability program.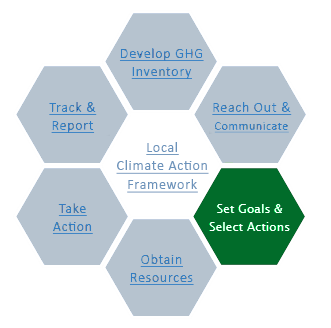 The following steps will help users articulate the goals for their climate, energy, and sustainability programs, as well as to identify the actions that are most appropriate to help meet those goals. Goals can be wide-ranging and cover many areas, including clean energy, greenhouse gas emissions, and resilience, as well as economic development, job creation, air quality, environmental justice, or other local priorities.
This is an early phase of project development and implementation. After completing this phase, it may be appropriate to proceed to the Obtain Resources phase to secure funding and other resources; to the Develop GHG Inventory phase to set a baseline for emissions inventories; to the Take Action phase to begin implementation; or to the Track & Report phase to develop a plan for measuring, evaluating, and communicating progress.
Key Steps

Printable Checklist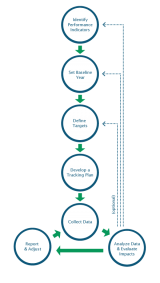 View Diagram
The exact steps for setting goals and selecting actions will vary by community. This guidance outlines several key steps that are likely to be part of this process. The steps are not necessarily intended to be pursued in linear order, and they may require multiple iterations, as shown in the diagram.
As an example, a community may first decide they have a general goal to reduce greenhouse gas emissions. After doing some research to understand the relevant context, the community may set a more specific goal to reduce building sector emissions by 20 percent from 1990 levels by 2020. Then, the community may move toward actions such as upgrading light fixtures at public facilities, adopting a more efficient building code, or sponsoring a community energy reduction challenge.
Case Studies
Tompkins County, New York: 2020 Energy Strategy (35 pp, 214 K, About PDF) Exit
Plan adopted in 2010 to achieve the county's goal of reducing GHG emissions 80 percent below 2008 levels by 2050. The plan includes the estimated GHG emissions savings, scale, timeline, financial feasibility, and technical needs for several measures.
Chicago, Illinois: Climate Action PlanExit
Plan that outlines goals, actions, and detailed methodologies to evaluate possible actions within five primary strategies: energy-efficient buildings, clean and renewable energy sources, improved transportation options, reduced waste and industrial pollution, and climate change adaptation.
Philadelphia, Pennsylvania: Greenworks PhiladelphiaExit
Plan that includes five overarching goals, 15 specific targets, and a third tier with specific initiatives to achieve the plan's targets.
City of Urbana, Illinois: Climate Action Plan (102 pp, 214 K, About PDF) Exit
Plan that articulates five overarching goals, 15 actions to achieve those goals, and the approaches used to estimate the actions' benefits.
Miami-Dade County, Florida: GreenPrint PlanExit
Plan that outlines several aspirational goals, specific targets under each, strategies to achieve each target and goal, and a plan for tracking progress.
Tools and Templates
EPA's Energy Efficiency Benefits Calculator
Calculator to help local governments make the business case for energy efficiency and calculate the benefits of different types of energy efficiency policies and programs.
EPA's WAste Reduction Model (WARM)
Tool to help solid waste planners and organizations compare emissions from baseline and alternative waste management practices, such as source reduction, recycling, combustion, composting, and landfilling.
EPA's AVoided Emissions and geneRation Tool (AVERT)
Tool to estimate the emissions benefits of energy efficiency and renewable energy policies and programs. The tool is primarily designed for state-level decision-makers, but could be relevant to other stakeholders.
CAPCOA's Quantifying Greenhouse Gas Mitigation Measures (546 pp, 7.47 M, About PDF) Exit
Resource developed by the California Air Pollution Control Officers Association (CAPCOA) designed for local governments to assess emission reductions that result from GHG mitigation measures. The tool is tailored to California communities, but broadly applicable.
ICLEI's ClearPathExit
Tool that helps users analyze the benefits of emissions reduction measures and track emissions progress over time, among other features. ClearPath is free to ICLEI members, and a 60-day free trial is available for non-members.
Further Reading
EPA's Local Government Climate and Energy Strategy Series
A suite of guidance documents for local governments on topics like energy efficiency, transportation, community planning and design, solid waste and materials management, and renewable energy.
EPA's Assessing the Multiple Benefits of Clean Energy
A resource for states, this guide helps state energy, environmental, and economic policy-makers identify and quantify the multiple benefits of clean energy.
NACo's Emerging Sustainability Strategies in America's CountiesExit
Resource developed by the National Association of Counties (NACo) on actions counties can take in pursuing sustainability programs.
EPA's WaterSense Partnership Program
Resources and information on best practices for sustainable water management in the commercial and institutional sector.
PlaNYCExit
New York City's sustainability and resilience blueprint, with information on goals, targets, and strategies across a range of sectors, including housing and neighborhoods, brownfields, public health, food, green buildings, energy, air quality, and others.
Acknowledgements:
EPA would like to acknowledge Bruce Andersen (Wyandotte County, Kansas), Katie Borgella (Tompkins County, New York), Alex Dews (City of Philadelphia, Pennsylvania), and Sam Gordon (Town of DeWitt, New York) for their valuable input and feedback as stakeholder reviewers for this page.