Reach Out & Communicate about Climate & Energy
Connecting with partners and the community is an essential element of any successful program, project, or policy. While it is especially important in projects that engage the community, projects to promote green government operations or adopt a policy will also benefit from smartly designed plans to engage and communicate with stakeholders. Local entities can use outreach plans to earn community buy-in and project support before, during, and after implementation. Project teams that engage many stakeholders, such as decision-makers, community members, and experts early and often can increase the likelihood of project success.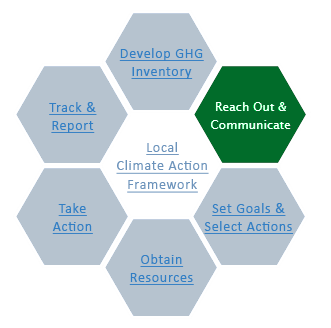 This phase covers both one-way and two-way communications.
 One-way communication refers to efforts to share information and may be used to raise awareness, educate the public, and share successes.
 Two-way communication includes outreach that encourages a dialogue and may be used to gather information about target audience needs or habits; coach business owners through an energy upgrade; request that residents make a sustainability pledge; gather feedback on project plans; or discuss implementation logistics with building staff.
Both types of outreach are valuable and can be used before, during, and after project implementation. It is likely that a program or project may include both one-way and two-way communications for different parts of the project. Using research and conversation to get to know your target audience will increase the effectiveness of both one-way and two-way communication. To maximize the effectiveness of both forms of outreach, use simple messages, repeated often over multiple channels, from trusted sources.
The keys steps presented here will help you to develop and implement an effective strategy to engage the community and communicate key messages. The steps are organized around six basic questions: why, who, what, when, where, and how?
Key Steps

Printable Checklist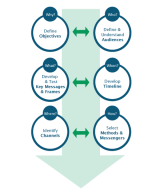 View Diagram
The exact process for engaging and communicating will vary by project and entity. Here we outline several key steps likely to be part of any outreach process. The steps are not necessarily intended to be pursued in linear order. It is likely that several of the steps will be done simultaneously, as shown in the diagram. Although each step is necessary to develop a successful outreach plan, the scope of each step can be calibrated to your project and available resources.
Case Studies
Eugene, Oregon: SmartTrips
A Climate Showcase Communities project that developed an individualized outreach program to reduce the number of single-occupancy trips made in cars.
Salt Lake City, Utah
A Climate Showcase Communities project that used effective community-based social marketing to improve existing vehicle travel reduction programs. A toolkit is available to help organizations seeking to replicate the program.
Acterra: Green@HomeExit
Program that trains volunteers to provide energy audits to their neighbors and to install simple energy-saving devices (e.g., CFLs, indoor clotheslines).
Madison, Wisconsin: Mpower ChaMpions
A Climate Showcase Communities project that worked with local businesses and schools to reduce GHG emissions, with "Lunch and Learns" and a sustainable business network, and by sharing program case studies.
Corvallis, Oregon: Communities Take ChargeExit
A climate showcase communities program that encourages participants to focus on three energy saving actions each month to earn energy prize points.
Further Reading
EPA's Effective Practices for Implementing Local Climate and Energy Programs
A series of 19 tip sheets based on direct feedback from the Climate Showcase Communities covering topics like: effective messaging, testimonial videos, traditional media strategies, community-based social marketing, and working with various stakeholder groups.
DOE's Clean Cities Tips for Public OutreachExit
Tips for communicating with stakeholders and the public, using social media, contacting local media, writing press releases, and producing videos.
Resource Media's Seeing Is BelievingExit
Best practices informed by the latest research, and tools on visual storytelling.
The Goodman CenterExit
Website that provides resources for communication through presentations, storytelling, and advertising.
EPA's State and Local Branch Communications Webcast Series
A three-part webcast series on communications strategies and methods covering methods of gaining support and attracting participation, sustaining behavior change, and showcasing program successes.
Acknowledgements:
EPA would like to acknowledge Abby Young (Bay Area Air Quality Management District); Carly Lettero (Energize Corvallis); Lori Clark, Shane Pace, and Shannon Stevenson (North Central Texas Council of Governments ); Kate Lohnes (Salt Lake City, Utah); Matthew Mehalik (Sustainable Pittsburgh), and Jen McLoughlin (Woodbury, Minnesota) for their valuable input and feedback as stakeholder reviewers for this page.