Local Examples of Climate Action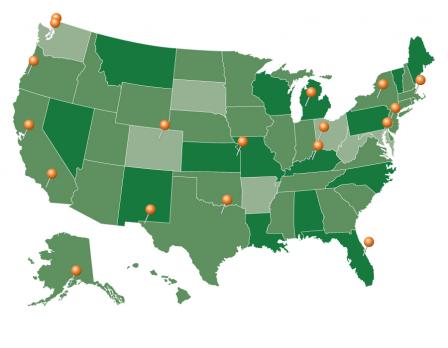 Across the country, local governments—including cities, counties, tribes, and regions—are taking action to address climate change. This action takes many forms, but it commonly includes developing a greenhouse gas inventory to understand sources of emissions, followed by creating a climate change action plan to reduce greenhouse gas emissions and prepare for climate change impacts. The next step is to implement the plan's actions, providing updates on progress and revising the plan as needed.
This page provides a diverse range of models for climate action planning. These examples represent communities across the country of various sizes and jurisdictions. Some plans focus on government operations while others address community-wide emissions and impacts. While all of the plans focus on climate change mitigation (reducing greenhouse gas emissions), many of them also include climate change adaptation (preparing for and responding to the impacts of climate change).
Government
State
Pop.
Plan Scope
Includes Adaptation?
Mult. Juris-dictions?
Reasons to Learn More About This Example
City of Boston
MA
646,000
Community-wide
Yes
No
• Regularly updates plan
• Expanded plan to include community-wide actions and climate preparedness strategies
Tompkins County
NY
104,000
Community-wide
Yes
Yes
• Pursuing multiple initiatives and plans to achieve target
• Participating in broader regional sustainability plan
• Received EPA Climate Showcase Communities Grant
City of Baltimore
MD
620,000
Community-wide
Yes
No
• Annually updates plan
• Identified most cost-effective mitigation strategies
• Received EPA Climate Showcase Communities Grant
City of Philadelphia
PA
1,553,000
Community-wide
Yes
No
• Releases annual progress reports
• Uses ENERGY STAR Portfolio Manager
• Analyzed recent and future climate
City of Louisville
KY
253,000
Community-wide
Yes
No
• Includes focus on city-wide adaptation and resilience
• Draws on inventory efforts conducted with local partners
Southeast Florida Regional Climate Change Compact Partner Counties
FL
560,000
Community-wide
Yes
Yes
• Coordinates climate action across four counties
City of Grand Rapids
MI
190,000
Government
Yes
No
• Produces annual progress reports
• Already achieved GHG reduction target for 2012
• Released community-wide plan on resilience
City of Cincinnati
OH
300,000
Community-wide
Yes
No
• Has updated plan
• Received EPA Climate Showcase Communities Grant
City of El Paso
TX
674,000
Community-wide
No
No
• Releases annual Sustainability Report Cards
City of Dallas
TX
1,258,000
Community-wide
No
No
• Has updated plan
• Demonstrated reduction of emissions from government operations
City of Mission
KS
9,000
Community-wide
No
No
• Developed multiple plans, including scorecard to evaluate progress
• Identified separate approaches for government operations and broader community
• Meets monthly to discuss plan
Boulder County
CO
310,000
Community-wide
Yes
Yes
• Adopted by all cities and towns in the county
• Established carbon neutrality target for internal operations
Cities of Albany, El Cerrito, Piedmont, and San Pablo
CA
Albany: 17,000

El Cerrito: 24,000

Piedmont: 11,000

San Pablo: 30,000
Community-wide
Yes
No
• Collaborated to develop individual plans
• Received EPA Climate Showcase Communities Grant
City of Los Angeles
CA
3,880,000
Government
No
No
• Developed detailed information about implementation
• Releases annual government and community-wide GHG inventories
City of Homer
AK
5,000
Community-wide
Yes
No
• Represents first CAP in the state
• Released implementation report
• Includes revolving energy fund
City of Eugene
OR
159,000
Community-wide
Yes
No
• Has released progress reports
• Includes adaptation strategies for health and social services, urban natural resources
• Received EPA Climate Showcase Communities Grant
City of Seattle
WA
652,000
Government
Yes
No
• Established carbon neutrality target for government operations
• Created short-term implementation goals
• Received EPA Climate Showcase Communities Grant
• Produced multiple city-wide and municipal GHG inventories
Swinomish Indian Tribal Community
WA
3,000
Community-wide
Yes
No
• Focused on tribal adaptation
• Includes mitigation