Energy and Environment Guide to Action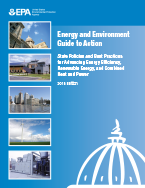 The Energy and Environment Guide to Action: State Policies and Best Practices for Advancing Energy Efficiency, Renewable Energy, and Combined Heat and Power provides in-depth information about over a dozen policies and programs that states are using to meet their energy, environmental, and economic objectives. Each policy description is based on states' experiences in designing and implementing policies, as documented in existing literature and shared through peer-exchange opportunities provided to states by EPA's State Climate and Energy Program.
The Guide to Action is intended for use by state energy, environment, and economic policy-makers and regulators.
By Chapter: