Clean, Green, and Healthy Schools: Region 1 Highlights
Clean, Green and Healthy Schools Regional Highlights showcases exceptional school environmental health projects within each of EPA's ten regions.
EPA Region 1 includes Connecticut, Maine, Massachusetts, New Hampshire, Rhode Island, and Vermont; and tribes.
On this page:
---
2014 Highlights
Recognizing Childhood Asthma Management Efforts in Massachusetts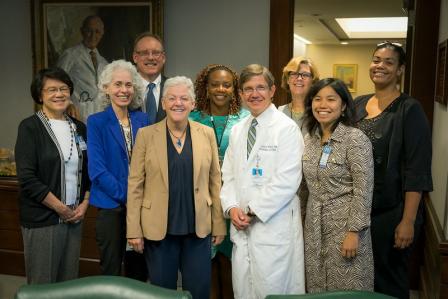 EPA Administrator Gina McCarthy at Tufts Medical Center with CEO and President, Dr. Michael Wagner and staffFor a number of years, EPA Region 1 has collaborated with grantee Massachusetts Coalition for Occupational Health and Safety (MassCOSH) to promote children's environmental health within schools. Because the rate of asthma in New England is the highest in the country, many of their efforts aim to address indoor air quality concerns that lead to poor respiratory health. MassCOSH has been particularly active in Boston, as a member of the Boston City-wide Healthy Schools Task Force for more than 10 years. The task force includes the Boston Schools Department, Boston Public Health Commission, the Healthy Homes and Schools Collaborative, the Boston Teachers and Custodial Union, and school administrators. These stakeholders work together to provide schools with policies, procedures, and training that will reduce asthma and improve environmental conditions for students and staff.
Boston, along with nearly all cities in the nation, has a school wellness policy in place to address students' health needs, focusing mainly on nutrition and physical activity. Last year, however, the Boston Public Schools Wellness Policy was expanded to include healthy school environments. This unique approach Boston is taking towards wellness is a real victory for children's environmental health. Tolle Graham, MassCOSH Healthy Schools coordinator, attributes this success to the work Boston's Healthy Schools Task Force has done to foster an understanding that healthy school environments are a priority for the city. With their success in Boston, Region 1 and MassCOSH have been working to develop a strategy to implement their best practices throughout all of Region 1, and eventually to regions across the country.
To reinforce the accomplishments Region 1 has made with their efforts to address asthma in Massachusetts, EPA Administrator Gina McCarthy visited Boston on August 19, 2014, to share the message that climate change is a driving factor behind environmental public health issues like asthma and must continue to be addressed. To promote this important message, McCarthy spoke with several stakeholders in the area, including health professionals from Boston Children's Hospital and Tufts Medical Center, community members involved with Health Resources in Action, and families whose children are affected by asthma. This was an encouraging message and it confirmed to the region that they have been heading in the right direction.
2013 Highlights
Childhood Asthma Management Massachusetts
When the William Monroe Trotter Elementary School, located in Dorchester, Massachusetts, became aware of the indoor air quality concerns that were contributing to its high pediatric asthma rate of 30%, they realized that it was time for action. It was not uncommon for an ambulance to come to the school twice a week, and the nurse's office had become a revolving door, full of students with aggravated asthma and difficulty breathing. Teachers reported respiratory problems that worsened as the school week went on, only to clear up over the weekend. The poor quality of the air and the physical environment was not conducive to learning, and necessitated a severe clean up.
The EPA Region 1 asthma team conducted an initial walk-through of the school, finding poor ventilation, leaks, pests, excess dust and mold. With the help of the Massachusetts Coalition for Occupational Safety and Health, the Ecumenical Social Action Committee and school nurse Margaret Van Cleve-Rocchio, the Trotter School then formed an Environmental Committee, which consisted of teachers, administrators, custodians and parents. The Committee worked to identify environmental health concerns and raise awareness in the school, and in 2010 conducted a massive clean out of the Trotter School facility by removing immense clutter, thoroughly cleaning the vents, and also fixing the leaky roof and damaged ceiling. They also incorporated teacher surveys, parent education, integrated pest management and additional walkthroughs into the new school wellness plan. In the second year of the Trotter School Environmental Committee, they continued to build upon their success by working with the lead custodian and the recycling team in order to coordinate a new recycling initiative that would help decrease the amount of excess paper and dust in classrooms.
These efforts have resulted in reduced trips to the school nurse for asthmatic symptoms, as well as a decrease in chronic absenteeism. Teachers' awareness of asthma triggers have now become a part of the school's culture, and according to Ms. Van Cleve-Rocchio, the school environment has become much cleaner and presents less asthma triggers: for example, the number of mouse sightings has decreased significantly. This year, the Trotter School was honored by the American Lung Association for their work in childhood asthma management with the prestigious American Lung Association Asthma-Friendly Schools Initiative (AFSI) Silver Award. In addition, in 2012, Ms. Van-Cleve Rocchio received the Community Champion award from Health Resources in Action in for her efforts in helping young asthma sufferers at the Trotter School.