Schools: Managing Asthma in School Environments
On this page:
Why It's Important
Asthma is the leading cause of children's absence from school.
Numerous environmental triggers can cause asthma attacks, such as:

Mold, excess moisture, and dust
Pests and animal dander
Diesel exhaust
Chemicals in some cleaning products

Addressing asthma triggers can reduce the number of nurse visits and keep children focused on school work.
What You Can Do
Perform regular and thorough cleaning and building maintenance to help children avoid environmental triggers.
Avoid using cleaning products containing strong odors or fragrances that might trigger asthma symptoms.
Implement an integrated pest management program to reduce the risk of triggers.
Ensure the school has policies in place to reduce unnecessary car and bus idling.
EPA's Model School Environmental Health Program addresses key components that can reduce asthma triggers.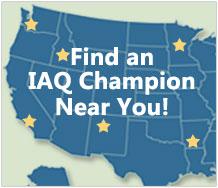 IAQ Champions in your area can help with peer-to-peer learning and sharing.
EPA and Federal Partners
The following links exit the site Exit
National Organizations
Regional, State and Local Resources
Sensible Steps for Healthier School Environments  by EPA provides an overview of issues related to asthma and asthma triggers in schools.
Asthma and the School Environment in New York State  by the state's Department of Health summarizes research on asthma hospitalization among school-age children as well as school building conditions. The report identifies the strengths and remaining challenges of managing asthma and associated environmental factors in the school setting.
Schools and Asthma  on the Asthma Initiative of Michigan website offers numerous tools to support children with asthma in schools as well as related state laws and policies and resources for school staff and parents.