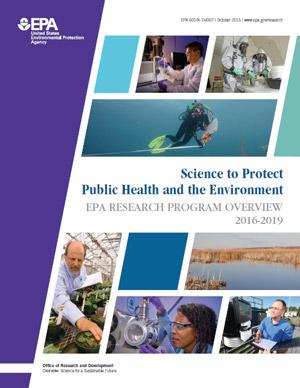 This document provides an overview of EPA's research programs within the Office of Research and Development. Our critically important work is providing the science needed to address the biggest problems facing environmental science, the Agency, and the world. This cutting-edge and innovative research portfolio is connecting the dots by characterizing problems up front, and recognizing the inherent connections between a healthy and sustainable environment and healthy people.
You will need Adobe Reader to view some of the files on this page. See EPA's About PDF page to learn more.
Strategic Research Action Plan Overview 2016-2019 (PDF)

(34 pp, 4 MB, October 2015)

Several principles guide the design and implementation of EPA research programs. They are: Protect Public Health and Advance Sustainability; Ensure Science Quality and Transparency; Achieve Broad Impact; Innovate; Inform Decisions and Actions; Seek Collaboration; and Support a High-Performing Workforce. Completed and ongoing research activities that illustrate these principles are highlighted in this overview.