Resource Conservation and Recovery Act (RCRA) Overview
The Resource Conservation and Recovery Act (RCRA) protects communities and resource conservation. To achieve this, EPA develops regulations, guidance and policies that ensure the safe management and cleanup of solid and hazardous waste, and programs that encourage source reduction and beneficial reuse.
On this page:
---
What is RCRA?
The term RCRA is often used interchangeably to refer to the law, regulations and EPA policy and guidance. The law describes the waste management program mandated by Congress that gave EPA authority to develop the RCRA program. EPA regulations carry out the congressional intent by providing explicit, legally enforceable requirements for waste management. These regulations can be found in title 40 of the Code of Federal Regulations (CFR), parts 239 through 282. EPA guidance documents and policy directives clarify issues related to the implementation of the regulations. 
The components that make up the RCRA program include the Act, Regulations, Policy and Guidance. 
---
How does RCRA work?
RCRA establishes the framework for a national system of solid waste control. Subtitle D of the Act is dedicated to non-hazardous solid waste requirements, and Subtitle C focuses on hazardous solid waste. Solid waste includes solids, liquids and gases and must be discarded to be considered waste.
Congress has amended RCRA several times, which requires the President's signature to become law.  EPA translates this direction into operating programs by developing regulations, guidance and policy.
States play the lead role in implementing non-hazardous waste programs under Subtitle D. EPA has developed regulations to set minimum national technical standards for how disposal facilities should be designed and operated. States issue permits to ensure compliance with EPA and state regulations.
The regulated community is comprised of a large, diverse group that must understand and comply with RCRA regulations. These groups can include hazardous waste generators, government agencies and small businesses, and gas stations with underground petroleum tanks.
Subtitle D – Non-hazardous Waste
Non-hazardous solid waste is regulated under Subtitle D of RCRA. Regulations established under Subtitle D ban open dumping of waste and set minimum federal criteria for the operation of municipal waste and industrial waste landfills, including design criteria, location restrictions, financial assurance, corrective action (cleanup), and closure requirement. States play a lead role in implementing these regulations and may set more stringent requirements. In absence of an approved state program, the federal requirements must be met by waste facilities.
Hazardous waste is regulated under Subtitle C of RCRA. EPA has developed a comprehensive program to ensure that hazardous waste is managed safely from the moment it is generated to its final disposal (cradle-to-grave). Under Subtitle C, EPA may authorize states to implement key provisions of hazardous waste requirements in lieu of the federal government. If a state program does not exist, EPA directly implements the hazardous waste requirements in that state. Subtitle C regulations set criteria for hazardous waste generators, transporters, and treatment, storage and disposal facilities. This includes permitting requirements, enforcement and corrective action or cleanup. 
Other RCRA Provisions
| Subtitle | Provisions |
| --- | --- |
|      A | General Provisions |
|      B | Office of Solid Waste; Authorities of the Administrator and Interagency Coordinating Committee |
|      E | Duties of the Secretary of Commerce in Resource and Recovery |
|      F | Federal Responsibilities |
|      G | Miscellaneous Provisions |
|      H | Research, Development, Demonstration and Information |
|       I | Regulation of Underground Storage Tanks |
|       J | Standards for the Tracking And Management of Medical Waste |
---
RCRA Today
EPA has largely focused on building the hazardous and municipal solid waste programs, and fostering a strong societal commitment to recycling and pollution prevention. Ensuring responsible waste management practices is a far-reaching and challenging task that engages EPA headquarters, regions, state agencies, tribes and local governments, as well as everyone who generates waste.
It is important to look at the RCRA program's nationwide accomplishments to understand where it is now and where it is headed in the future.
Developing a comprehensive system and federal/state infrastructure to manage hazardous waste from "cradle-to-grave"
Establishing the framework for states to implement effective municipal solid waste and nonhazardous secondary material management programs
Preventing contamination from adversely impacting our communities and resulting in future Superfund sites
Restoring 18 million acres of contaminated lands, nearly equal to the size of South Carolina, and making the land ready for productive reuse through the RCRA Corrective Action program
Creating partnership and award programs to encourage companies to modify manufacturing practices in which to generate less waste and reuse materials safely
Enhancing perceptions of wastes as valuable commodities that can be part of new products through its sustainable materials management efforts
Bolstering the nation's recycling infrastructure and increasing the municipal solid waste (MSW) recycling/composting rate from less than seven percent to about 34.6 percent 
​The RCRA program has evolved in response to changes in waste generation and management aspects that could not have been foreseen when the program was first put in place. The RCRA program is needed to address continuing challenges, including the following:
Highly toxic waste
Wastes from increasingly efficient air and water pollution control devices
Population growth that places larger demands on our natural resources
Long term stewardship of facilities that closed with waste in place
Looking towards the future, it is important for the RCRA program to continue to fulfill its mission by
Continuing to safeguard communities and the environment
Mitigating and cleaning upcontamination
Championing sustainable, lifecycle waste and material management approaches
Promoting economic development (including job creation) and community well being
Embracing technological advances that will facilitate commerce and enhance stakeholders' participation in the decisions affecting their communities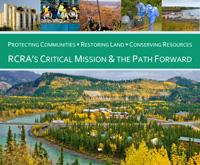 View the RCRA's Critical Mission & the Path Forward to learn more about the critical role the RCRA program continues to play in protecting communities, restoring land and conserving resources across the nation.