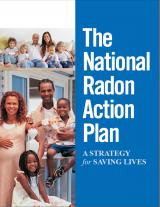 The National Radon Action Plan outlines the framework for reducing radon risk in 5 million homes and saving 3,200 lives annually by 2020. Read the press release.
This Plan represents a collaborative effort between eleven organizations dedicated to eliminating avoidable radon-induced lung cancer in the United States. Led by the American Lung Association, the national radon workgroup agreed on a framework for action aimed at incorporating radon testing, radon mitigation and radon-resistant construction into systems that govern purchasing, financing, constructing and renovating homes and other buildings. This framework builds on early federal action that generated baseline progress by incentivizing radon action, testing for and mitigating high radon levels, and increasing visibility of the radon issue.
---
Key Milestones
November 10, 2015 - National Radon Action Plan Released
January 20, 2015 - National radon workgroup reconvenes in Washington DC
October 23, 2013 - ALA convenes meeting with national radon workgroup to build on the Federal Radon Action Plan.
June 14, 2013 - National radon workgroup established
June 20, 2011 - The Federal Radon Action Plan formally announced at the National Healthy Homes Conference in Denver, Colorado, June 20, 2011
---
To learn more about the National Radon Action Plan, please click on the link below.
You will need Adobe Reader to view some of the files on this page. See EPA's About PDF page to learn more.