Federal Radon Action Plan (FRAP)
On this page:
---
FRAP Expands to NRAP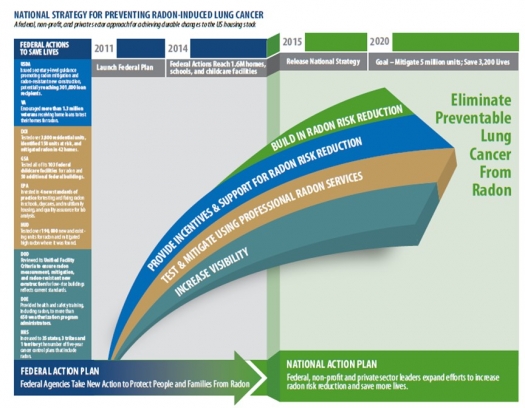 Since its launch in 2011, participating agencies have successfully completed 88% of their FRAP commitments . As of 2014, these efforts yielded direct and immediate effects reaching at least 1.6 million homes, schools and childcare facilities with federal guidance and incentives and, in 12.5% of those units, testing and mitigating when necessary. Perhaps most importantly, by shining a spotlight on radon and finding ways within existing federal policies and programs to address it, the FRAP agencies spurred a national ramp up in radon risk reduction. This is reflected in the latest data (2013 and 2014) which shows the highest rates of radon mitigation and new construction ever recorded in the U.S.
As federal agencies close out the FRAP, it is with the understanding that this effort has served as a springboard to more strategic national action that will build on current and future FRAP impacts. EPA has joined forces with key players across the government, industry and nonprofit sectors to implement the National Radon Action Plan. This initiative, launched in November 2015 and led by the American Lung Association, aims to mitigate 5 million high radon homes and save 3,200 lives from lung cancer annually by 2020. Moving forward, future impacts from FRAP commitments will continue to be tracked and reported on as part of the NRAP initiative.
---
The FRAP Scorecard
Since early 2011, federal partners have been implementing the FRAP and reporting on our progress. Our Scorecard is our tool for tracking and reporting on the status of activity under the FRAP. This scorecard (posted February 2016) marks the conclusion of the FRAP and will not change. Future impacts from FRAP commitments will be tracked and reported under the NRAP.
This Scorecard lists commitments by their final status – green for complete and red for incomplete. It also highlights six commitments that will continue to be tracked under NRAP. Commitments marked complete will either be expanded to include radon risk reducing actions beyond the FRAP commitment or will be tracked to ensure completion of proposed plan. The three FRAP commitments that are incomplete are aligned in intent with NRAP strategies and will be addressed under that framework moving forward.
View FRAP Scorecard by Progress.
---
Key FRAP Milestones

---
FRAP Resources