Reducing Air Pollution and Greenhouse Gases at U.S. Ports
Ports are a vital part of the United States economy, with seaports, Great Lakes ports, and inland river ports serving as gateways for moving freight and passengers across the country and around the world. As our nation adapts to meet economic and infrastructure demands, it is critical to understand the potential impacts on air pollution, greenhouse gases (GHGs), and the people living, working, and recreating near ports.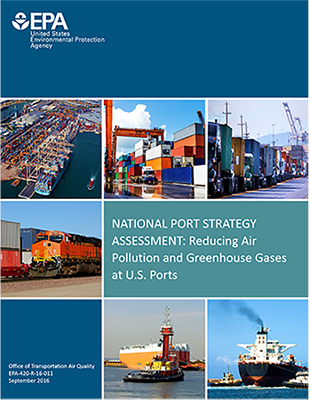 EPA developed this national scale assessment to examine current and future emissions from a variety of diesel sources operating in port areas, and to explore the potential of a range of available strategies to reduce emissions from port-related trucks, locomotives, cargo handling equipment, harbor craft, and ocean-going vessels.  Diesel engines are the modern-day workhorse of the American economy, and although they can be reliable and efficient, older diesel engines can emit significant amounts of air pollution, including fine particulate matter (PM2.5), nitrogen oxides (NOx), air toxics, and carbon dioxide (CO2), which impact human health and the planet.  State and local governments, ports and port operators, Tribes, communities, and other stakeholders can use this assessment as a tool to inform their priorities and decisions for port areas and achieve more emission reductions across the United States.
Key Findings
Note - click on or select each finding for more information
---
You will need Adobe Reader to view some of the files on this page. See EPA's About PDF page to learn more.