May 2015 Pacific Southwest Newsletter
EPA Pacific Southwest - Region 9

Gina McCarthy in California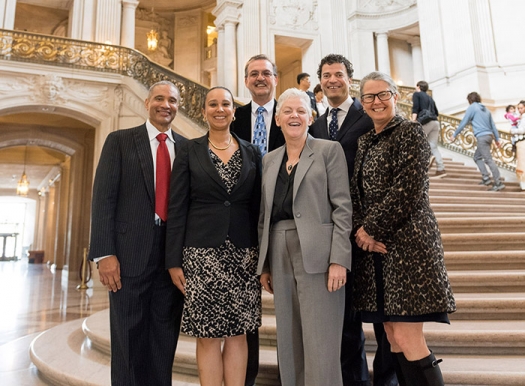 Click to See Full Caption

Left to right: Harlan Kelly, Jr., San Francisco Public Utilities Commission General Manager; Naomi Kelly, San Francisco City Administrator; John Updike, San Francisco Real Estate Division Director; Gina McCarthy, EPA Administrator; Jared Blumenfeld, EPA Pacific Southwest Regional Administrator; Barbara Hale, San Francisco Public Utilities Commission Assistant General Manager. | Click image to enlarge
EPA Administrator Gina McCarthy was in California this month, where she visited a landfill that will be transformed into a solar farm; toured San Francisco City Hall, one of the world's oldest Leadership in Energy and Environmental Design (LEED) Platinum-certified buildings; honored a Marine base for reducing fuel use; and presented a San Diego art museum with an Energy Star award.
---
Reducing Waste at Disneyland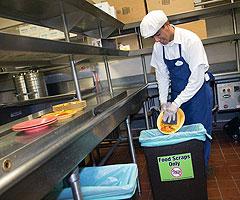 EPA has recognized Disneyland with a Food Recovery Challenge award for its zero waste efforts, including the highest percentage increase in food recovery of any theme park in the nation. EPA's Food Recovery Challenge partners with grocers, educational institutions, entertainment venues, restaurants, hotels and other organizations to save money, reduce hunger in communities, and protect the environment by preventing food waste.
---
A Toolkit to Reduce Marine Debris
EPA, the Product Stewardship Institute, and the University of California announced the launch of a new Marine Debris Campus Toolkit designed to help college campuses and other institutions cut their plastic waste to reduce marine debris and coastal pollution. The toolkit, funded by an EPA grant, resulted from a pilot project at coastal University of California campuses in Santa Barbara, San Diego, and San Francisco.
---
Kids Helping Sea Turtles
The fifth grade class at Mount Madonna School in Watsonville, Calif., won the 2014 President's Environmental Youth Award for their year-long environmental education campaign, "Don't be a Nurdle, Help the Sea Turtle: Poaching, Bycatch & Plastic Pollution - Tell the World About Our Solution."
Enforcement Update
Protecting San Francisco Bay
EPA, the U.S. Department of Justice, and the State of California reached a settlement with a cement plant near Cupertino, Calf., to reduce toxic discharges of selenium and other metals to Permanente Creek, a tributary of San Francisco Bay.