Greening the Golden Gate National Recreation Area
Federal Green Challenge Award Goes to National Park Service for Renewable Energy Innovation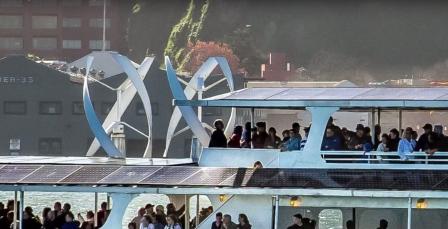 Alcatraz Cruise's hybrid ferry with solar photovoltaics and wind turbines on top. Photo: NPS | Click image to enlargeGolden Gate National Recreation Area Exit is one of the largest national parks in an urban area with over 1,200 historic buildings and 80,000 acres surrounding the San Francisco Bay Area.
The park was recognized a
2016 Federal Green Challenge Award
for making significant strides to reduce its carbon footprint with the
goal of becoming a carbon neutral park
. Highlights of their efforts include:
Purchasing 100% renewable energy for park buildings through Community Choice Aggregation programs
Installing solar panels on historic Fort Mason buildings and Alcatraz Island.