February 2015 Pacific Southwest Newsletter
Keeping Polluting Vehicles Out of the U.S.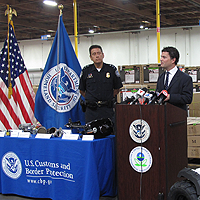 EPA and U.S. Customs and Border Protection announced the results of a joint operation targeting vehicles and equipment imported without proper emission controls in violation of the federal Clean Air Act. More than 730 items, including motorcycles and generators, were seized or exported back to their country of origin. EPA estimates that the noncompliant vehicles and engines would have emitted over 350,000 pounds of pollutants per year.
---
Reducing Food Waste in Las Vegas
MGM Resorts International has been recognized by EPA and the state of Nevada for reducing food waste. The company's 13 properties in Las Vegas diverted a total of 25,398 tons of food from landfill to compost, a 50% increase over 2012. Composting this food conserved the energy equivalent of more than 50,300 gallons of gasoline.
---
Improving Water Quality in Arizona
EPA has awarded $2.5 million to the state of Arizona for projects to help restore the state's polluted water bodies. An additional $1.6 million leveraged by the state for these activities means that more than $4 million is available this year to improve surface water quality. Recent data show that a significant percentage of surface waters in Arizona are listed by the state as impaired.
Arizona Daily Star: EPA Awards Millions to Arizona for Water Restoration
Enforcement Update
Geospatial Monitoring of Air Pollution
Identifying air pollution can be difficult because of changing pollution conditions and the fact that harmful substances are usually invisible to the naked eye. A new vehicle being tested in Los Angeles, Calif., provides real time data about toxic substances in the air. This could be useful to regulators as they decide which facilities to prioritize for inspections.