April 2016 Pacific Southwest Newsletter
April 2016 Newsletter

University of Arizona Reduces Food Waste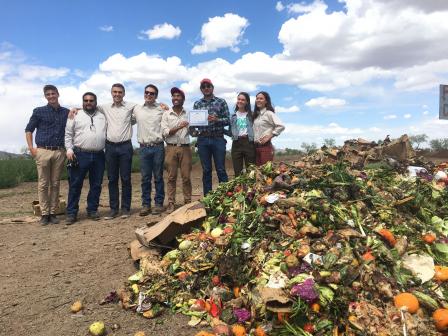 EPA, which celebrated Earth Day 2016 by focusing on the need to reduce food waste, honored the University of Arizona for its food recovery accomplishments. Students, food service staff, and university leaders, along with the Tohono O'odham Nation's San Xavier Co-operative Farm and the City of Tucson, worked together to divert 3.4 million pounds of food waste, landscape debris, and manure from the landfill.
---
Cleaning Up Underground Fuel Tanks in Fresno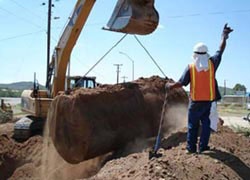 EPA removed 4,400 gallons of fuel from three underground storage tanks (USTs) at a former gas station located in Fresno, Calif. The tanks' proximity to a residential neighborhood made the site a high priority of a statewide initiative focused on cleaning up underground storage tank sites.
---
Polluted Mine Site Proposed for Superfund List
The Argonaut Mine site, in the Sierra foothills near Jackson, Calif., is a historic hard-rock gold mine that operated from the 1850s to 1942. As a result of years of mining operations, the site's soil contains high levels of arsenic, lead and mercury. EPA has proposed adding the Argonaut site to the National Priorities List, which serves as the basis for prioritizing both enforcement actions against potentially responsible parties and long-term EPA Superfund cleanup funding.
---
Ensuring Clean Water in Nevada
EPA approved Nevada's list of waterways in need of protection, and proposed adding a section of the South Fork Humboldt River and a revised section of the North Fork Little Humboldt River to the impaired waters list, based on elevated levels of mercury that may pose health concerns to people consuming fish caught in those waters.
Enforcement Update
Cleaning Up Groundwater at a Superfund Site
A group of 66 companies have agreed to clean up contaminated groundwater at the Omega Chemical Corporation Superfund site in Whittier, Calif. The companies will spend an estimated $70 million to install wells and operate a groundwater treatment system. In addition, the parties will reimburse EPA $8 million and the California Department of Toxic Substances Control $70,000 toward costs incurred in past cleanup actions at the site.
Send us comments | Unsubscribe from this Newsletter | Subscribe to this Newsletter Exit