Interactive Map of Air Quality Monitors
The AirData Air Quality Monitors app is a mapping application available on the web and on mobile devices that displays monitor locations and monitor-specific information.  It also allows the querying and downloading of data daily and annual summary data.  
Map layers include: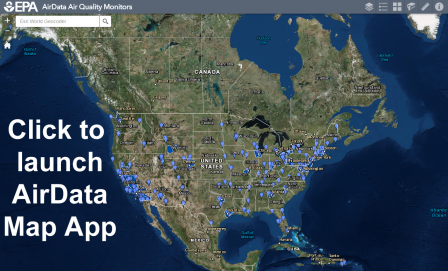 Monitors for all criteria pollutants (CO, Pb, NO2, Ozone, PM10, PM2.5, and SO2)
PM2.5 Chemical Speciation Network monitors
IMPROVE (Interagency Monitoring of PROtected Visual Environments) monitors
NATTS (National Air Toxics Trends Stations)
NCORE (Multipollutant Monitoring Network)
Nonattainment areas for all criteria pollutants
Tribal areas
Federal Class I areas (national parks and wilderness areas)
Note: We are working to provide a KML service for the monitor network layers. In the meantime, we are posting a static version of the KMZ files on this page for your convenience.
---
Static KMZ files as of October 27, 2015